It may just be that we aren't all that hip, but we have to admit we've never paid a whole lot of attention to Ben Harper.
But when we heard last year that Harper was teaming with blues harmonica master Charlie Musselwhite on an early 2013 release, we were nonetheless intrigued.
Now, after hearing the duo's Get Up! (out today on Stax Records/Concord Music Group), we're even more so.
Having first met during a 1997 studio session for John Lee Hooker (after which the blues legend encouraged the two to continue to work together), West Coast guitarist-singer Harper and Mississippi-born Musselwhite (pictured here at the 2011 Heritage Music Blues Fest) have been looking to record this album for more than a decade, and we're pretty sure that Hooker would be damn pleased with the result. Harper's 12th studio album, Get Up! is a superb – and dare we say, hip – collection of ten original tracks ranging from the sensitive R&B-style vocals, acoustic guitar, and harmonica of "You Found Another Lover (I Lost Another Friend)" and haunting war anthem "I Ride at Dawn" to the defiant, hard-driving electric blues of "I Don't Believe a Word You Say".
Though not all that drastically different from the gritty harmonica and guitar sound we've heard from the likes of Moreland and Arbuckle in recent years, Get Up! perhaps brings things one step closer to the mainstream, finding the pair backed by a band of guitar, bass, and drums, with Harper's vocals providing just the right amount of finesse and soul to make songs such as the slow, "Sitting on Top of the World"-like country blues of the closing "All That Matters Now" every bit as enjoyable as the no-holds-barred, manic vocals and guitar of "Blood Side Out" or shuffling rocker "I'm In I'm Out and I'm Gone," which according to Harper includes "one of the greatest harmonica solos in history."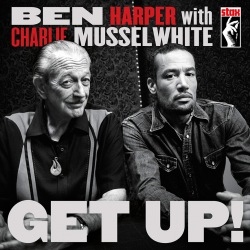 Produced by Harper, who also wrote or co-wrote each of the songs in addition to providing guitar, slide, and vocals, the album opens on the relatively reserved, Robert Johnson-style "Don't Look Twice" with falsetto vocals before moving into the aforementioned "I'm In I'm Out and I'm Gone" and the soulful acoustic gospel of a Bob Dylan-ish "We Can't End This Way," complete with hand-clapping and background singers, making the hard-hitting chorus and instrumentation of "I Don't Believe a Word You Say" that follows all that much more abrupt and powerful. A few songs later comes the New Orleans-flavored funk of "She Got Kick," buoyed by some lively piano, and that's not even mentioning the gifted songwriting you'll hear throughout the project, which includes such insightful gems as "You know it's bad, when the ceiling says to the floor: I'll trade you places, I can't take it up here no more" ("Don't Look Twice"); "Don't know what to do without you, don't know what to do with you/used to look at you with wonder, now I look at you and wonder" ("I Don't Believe a Word You Say"); and "It's been a long hard day, and a long hard night/been a hard year, it's been a hard life" ("All That Matters Now").
All told, Get Up! is a memorable and eclectic collaboration from two longtime friends that may just bring out the best from both, and the kind of blues that parents and children (at least the hip ones) alike can appreciate.