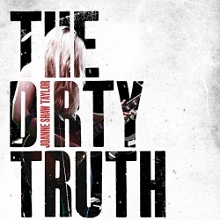 After three acclaimed studio albums as well as last fall's live Songs from the Road CD/DVD set – all on the German Ruf Records label – UK-born, now U.S.-based, blues-rocker Joanne Shaw Taylor has stepped out on her own with a new release on her independent Axehouse Music label.
Truth be told, there really isn't a whole lot drastically different or new about the sound of this one, entitled The Dirty Truth, from what we've heard from Taylor before. Which isn't a bad thing in any sense, with Taylor delivering the same solid mix of smoky vocals, tight guitar and no-nonsense gusto here as we've grown to admire from her through the past five years.
Reuniting Taylor with debut (White Sugar) and sophomore (Diamonds in the Dirt) album producer Jim Gaines, one of the goals of the new album was to try to revisit the same sound and feeling that the pair captured on that 2009 debut. In the end, The Dirty Truth marks another stellar outing for the singer/guitarist both musically and vocally, featuring plenty of catchy grooves punctuated with some superb guitar solos.
The catchiest of those grooves can be heard on such songs as the album's shuffling title track, a breezy "Fool in Love", and the closing "Feels Like Home" with its Jimi Hendrix-style licks, originally recorded for White Sugar but ultimately shelved from that project in favor of the inclusion of a similar sounding "Kiss the Ground Goodbye".
In between is an assortment of other great tracks ranging from simmering rockers like "Wicked Soul" and a "Shiver & Sigh" co-written with Kevin Bowe more than a decade ago to a driving, fuzz-filled blues shuffle in "Outlaw Angel" and the heavy riffs of "Struck Down" to the slow, delicate soul ballad "Tried, Tested and True", one of several tunes buoyed by some rich organ.
Taylor continues to develop lyrically as well, as evidenced on such tracks as the gritty, Stevie Ray Vaughan-like opener "Mud, Honey" ("runnin' around town waving that blood money/ your name is already mud, honey") and slightly funky rocker "Wrecking Ball" ("'cuz he tore up the script and blew up the walls, he came crashing in like a wrecking ball/ you know enough to know you never know, just how the future's gonna' go / but I cross my heart and I hope to die, that I never ever have to fall from the sky").
As usual with Taylor, the end result is both interesting and charming – in her own gritty, blues-rocking kind of way – making The Dirty Truth a perfect appetizer to her upcoming two-week tour with special guest guitarist Bernie Marsden (Whitesnake) for our friends fortunate enough to be in Taylor's native UK.
Related posts:
Joanne Shaw Taylor show in photos
Joanne Shaw Taylor brings songs from the road to Pittsburgh
Joanne Shaw Taylor lets it burn on Songs from the Road live CD/DVD set
With new Almost Always Never, Joanne Shaw Taylor almost never fails to delight
With Diamonds, another fine gem from Joanne Shaw Taylor