It's been some time since we last heard from blues-rocker Joe Bonamassa. If, that is, you consider a few weeks or months "some time," with Bonamassa having just released his Live at Beacon Theatre DVD in March, not to mention a win for Blues Rock Album (Dust Bowl) at the Blues Music Awards (BMAs) earlier this month. Easily the most prolific of today's blues guitarists, Bonamassa has now unveiled his 13th album in a dozen years in Driving Towards the Daylight (J&R Adventures), what Bonamassa classifies as "a return to the thing I love the most: the blues."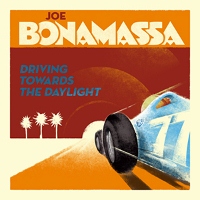 Even if you happened to miss that sentiment in Bonamassa's liner notes, it doesn't take long to figure out the direction the album is headed upon hearing its first few tracks, beginning with a, well, driving six-and-a-half minute "Dislocated Boy" that features Bonamassa on dobro and mandolin in addition to guitar and vocals, producer Kevin Shirley on toy piano, and lyrics like "boy, I've had these blues since I've been six years old" and "35 years ago, I was born on Robert Johnson." As if to drive that point home even more, he moves next to an updated take on the Robert Johnson classic "Stones in My Passway" with plenty of guitar riffs and the band bursting into swing mode partway through, in a style Bonamassa has described as a tip of the hat to Led Zeppelin.
The same is also true of the Howlin' Wolf tune that soon follows, "Who's Been Talking?," which begins with a clip of Wolf (from his London Sessions recording) talking about the calypso beat he envisions on the track – and that Bonamassa and his crew proceed to nail perfectly, with Bonamassa then tearing things up on guitar. Willie Dixon's "I Got All You Need" (Koko Taylor) is also afforded a swinging treatment, thanks in large part to Arlan Schierbaum's contributions on Hammond organ, with Anton Fig on drums, and rhythm and bass from Blondie Chaplin and Carmine Rojas, respectively. Also joining Bonamassa on second guitar for many of the tracks is Aerosmith's Brad Whitford, with Australian singer Jimmy Barnes taking the mic to provide vocals on the disc's closing "Too Much Ain't Enough Love."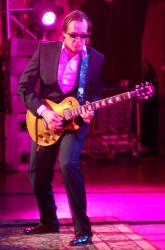 While the more blues-oriented of fans will likely find the first five songs – including the more sensitive but still quite powerful title track – the strongest of the batch, there's also a good deal to like in the rest of the album, with Bonamassa taking a slightly less direct – what some might call more scenic – route down the blues highway with songs such as Bernie Marsden's (Whitesnake) "A Place in My Heart," buoyed by some steely horns; a rocking "Lonely Town Lonely Street" (Bill Withers) that has Bonamassa and Whitford's guitars each on separate channels, joined also by Pat Thrall on funky guitar; and Tom Waits' "New Coat of Paint." As nice a job as Bonamassa does with these covers, however, the true highlights of the disc's second half are probably the Bonamassa-penned numbers: a Kenny Wayne Shepherd-sounding "Somewhere Trouble Don't Go" and the mesmerizing "Heavenly Soul" on which the slinger again displays his talents on mandolin, with both also serving as prime examples of the radio-ready tunes you'll find on Driving Towards the Daylight.
With the pedal to the metal on this album and plans to record follow-ups to both his earlier Black Country Communion and Beth Hart projects in coming months, Bonamassa is showing no signs of slowing down anytime soon. As much fun as it can be to look ahead at what's around the next corner for the rocking bluesman, or in the rear view mirror, Driving Towards the Daylight is guaranteed to put you in that zone where you feel like you could drive – and listen – forever.