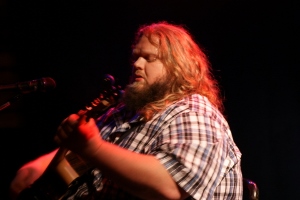 A little over five years back now, we introduced you to Canadian guitarist and singer Matt Andersen, about whom we said at the time: "Combined with Andersen's recent wins at the IBC and 2011 Maple Blues awards (where he took top prize in both the entertainer and acoustic act of the year categories), [his ability to accomplish such a diverse range of styles – and do it all so damn well – …] is bound to lead to a whole new world of possibilities for Andersen, and we look forward to hearing him play our part of it sometime soon." It might have taken another half-decade to be able to see him here in our part of the world, but we're pleased to report that Andersen played his heart out during his first visit to Pittsburgh as a headliner (having managed to sneak quietly in and out of town in September 2014 as the opening act for Nicki Bluhm & the Gramblers) last Monday night at the South Side's Club Cafe.
Following an entertaining solo opening set from local bluesman Jimbo Jackson of Jimbo & the Soupbones fame, Andersen delivered a delightful program of his own that ranged from the soft, tender sounds of songs like "Quiet Company", a "So Gone Now" on which Andersen stopped playing for several lines to sing a cappella, and the quiet, swaying "Coal Mining Blues", to the deep, booming vocals of the soulful "I Lost My Way" and gruff, hard-shuffling "Devil's Bride", with the breezy opening "The Gift" nicely foreshadowing the rest of the set by incorporating a little bit of each, along with its uplifting message of "believe that you are special/ believe you've got a gift/ the gift of life is all you'll need."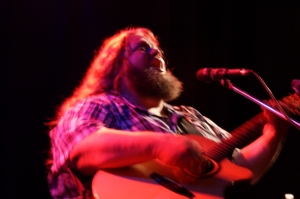 Reviewing Andersen's Coal Mining Blues back in 2012, we commented that "We haven't yet been able to decide which we enjoy more from Andersen: the soft ballads such as "Home Sweet Home," the beautiful title track, and the emotionally powerful "She Comes Down" or his more uptempo numbers like "Fired Up," the soulful "Heartbreaker" with its horns and intense vocals, and the swinging "Lay It on the Line," but we're pretty sure there's not a thing we don't like about this record, much of which has a pleasing country blues feel," a sentiment that holds as true about this recent live performance as it did that album, with the only difference perhaps being that Andersen is even more terrific on stage than on his recordings.
We don't know if Andersen has ever used any kind of nickname (aside perhaps from the "Stubby Fingers" of his website URL) as some musicians tend to do, but adding a "Mighty" before his name would probably be a pretty good place to start, and match well with Andersen's simple yet powerful musical style, a mix of passion and force.
While his playing is clearly skillful, Andersen didn't attempt to be flashy during this Pittsburgh show, never swapping out guitars or feeling the need to insert solos into each of his songs, but doing enough to leave no doubt as to his abilities. Vocally, his range is one of the best we've heard, delivering the slow, quiet ballads and harder-edged rockers with equal skill, occasionally surprising with falsetto or impressive sustained notes, such as heard this evening on numbers like the breezy "My Last Day" and the searing, slow impassioned blues of "Have You Got the Blues" with its nifty guitar intro and on which Andersen really broke out on both guitar and vocals.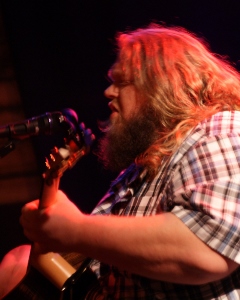 Along the way, there was also the melodic "Home Sweet Home", an uptempo, country-flavored "Come By", and a groovy "Honest Man" before Andersen closed the night on the slow "My Old Friend the Blues". In between, Andersen displayed a keen sense of humor, sharing stories about the relationships that inspired several of his songs as well as some of the challenges of life on the road, including having to deal with "full-size" European car rentals, being able to recognize others on the tour bus simply by smell, and creative ways of adapting to a lack of clean underwear.
We're still not sure whether it was the intimate setting of the performance, Andersen's commanding presence, or the combination of the two, but this was easily one of most engaging live sets we've had the pleasure of seeing in quite a while. And even though it was certainly every bit worth the long wait, here's hoping that we – and you – don't have to go another five years until Andersen again plays this part of the world.