When it comes to the history of the blues, few names are better recognized than that of Robert Johnson, almost as much for the myth that surrounds him (you'll recall the tale of Johnson having sold his soul to the devil in exchange for his guitar abilities) as for the music he gave us over his short career. Now on the 100th anniversary of his birth, a group of musicians is helping to ensure that Johnson's contributions to the music world aren't soon forgotten with both a series of concerts and a companion CD in his honor.
Unfortunately, the limited 20-date U.S. concert tour brought it nowhere near our Steel City, although a colleague who was able to catch the Chicago show was kind enough to send a program our way along with a positive review. While many of the performers on the Blues at the Crossroads: The Robert Johnson Centennial Concerts tour are names with whom readers of this blog will be familiar – Hubert Sumlin, David "Honeyboy" Edwards, Cedric Burnside, and Lightnin' Malcolm, among them – some might be surprised to learn that the driving force behind the project was a group of guys whose day job is with a rock/jam band called Big Head Todd & the Monsters.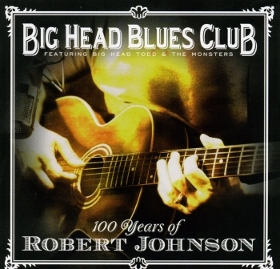 Now, I can remember playing tracks from a few of Big Head Todd's albums during my days on college radio – particularly "Broken Hearted Savior" off the band's Sister Sweetly LP – and don't know that I would ever link them all that closely with the blues, although the band did include a rocking cover of John Lee Hooker's "Boom Boom" (joined by Hooker himself) after encountering the legend in the same studio in which they were recording their Beautiful World CD. But perhaps that's part of what helps to make the centennial concerts and accompanying 100 Years of Robert Johnson CD (out today on Ryko/Big Records) such gems: the fact that these guys offer new and fresh takes on songs we've heard hundreds of times before.

The press materials for the album quote Big Head Todd guitarist and vocalist Todd Park Mohr: "I've always heard the more aggressive versions of Robert's more popular songs. But in studying his singing, guitar playing, and the songs themselves, I experienced a blues enlightenment. There is a rich complexity, a vulnerability and humanness throughout the Delta blues traditions that is often overlooked."
Joined on the album by the same artists who support them on the centennial tour, plus a few others like B.B. King, Charlie Musselwhite, and Ruthie Foster, the band takes on a whole different persona with this project, even adopting a more inclusive name as the Big Head Blues Club. Kicking off with an inviting "Come on in My Kitchen" that features Charlie Musselwhite on harmonica, 100 Years presents ten of Johnson's best known songs, including "Ramblin' on My Mind," a solo acoustic performance of "All My Love's in Vain" from Mohr, a B.B. King-accompanied "Crossroads Blues," and the shuffling "When You Got a Good Friend" with good friends Hubert Sumlin on guitar and Ruthie Foster on vocals. The music is solid, very much in the tradition of Johnson, and when combined with Mohr's unique, higher-pitched vocals, makes for quite an interesting and modern interpretation of Johnson's material.
"Preachin' Blues" is a driving little number that includes Burnside on drums and Lightnin' Malcolm on acoustic guitar, and a duet with Ruthie Foster makes for an especially nice touch on "Kind Hearted Woman." A muttering but charming Honeyboy helps kick off and end a funky "If I Had Possession Over Judgment Day," while the Musselwhite-supported "Last Fair Deal Gone Down" is among the album's best numbers, along with B.B. King's appearance on the soulful "Crossroads Blues" and a strong closer in "Sweet Home Chicago" that consists solely of Honeyboy on guitar and vocals and Musselwhite on harmonica.
Evidently, this is a project Mohr really enjoyed doing, judging by his remarks in an article previewing last week's New Jersey tour stop: "I'm definitely a different person coming out of this – musically and as a person. I have different values now that I've learned through this process… I might be a blues musician from now on."
We're not sure how Big Head Todd & the Monsters fans would feel about that, but we'd certainly be up for it, with nearly 20 other Robert Johnson recordings to choose from for a potential second volume. Or John Lee Hooker perhaps?