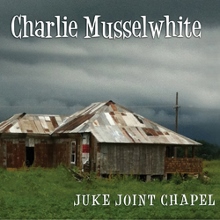 It's been one hell of a year for blues harmonica journeyman Charlie Musselwhite. With two albums recently nominated in both the coming year's Grammy and Blues Music awards, the Mississippi-born Musselwhite is showing no sign of letting up just yet, with his newest project Juke Joint Chapel (Henrietta Records) set for release Tuesday.
That of course doesn't leave a whole lot of time to track down a copy to stuff in your favorite blues lover's stocking (or your own), but take it from us that this one is every bit worth the trip out, even for those of you who might have thought you were done with your shopping.
Recorded at the Juke Joint Chapel of Clarksdale, Mississippi's Shack Up Inn, the 12-song collection captures Musselwhite at what many consider to be his best: live, rolling through a mix of such blues classics as Little Walter's "It Ain't Right", Eddie Taylor's "Bad Boy", Billy Boy Arnold's "Gone Too Long", Shakey Jake Harris' "Roll Your Money Maker", and the Duke Pearson instrumental "Cristo Redentor", along with several of Musselwhite's own classics like "Blues Overtook Me", "Blues Why Do You Worry Me?", and the rocking, John Lee Hooker-inspired boogie "River Hip Mama". Musselwhite's playing is, as usual, inspired, ranging from the playful (such as the "C.C. Rider" riffs he sneaks into the opening solo of "Bad Boy") to the fierce attacks of "Strange Land" to the mellow tones of the closing "Cristo Redentor".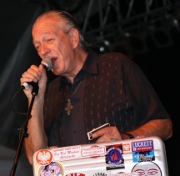 Matt Stubbs contributes some terrific work on guitar, with Mike Phillips and June Core completing the band on bass and drums, respectively, helping to give the album an old-style, Paul Butterfield kind of sound. Indeed, every track here is a good one, virtually ensuring that you'll be seeing Musselwhite's name among blues awards nominees again next year.
Here's one Christmas Eve service blues faithful are going to want to be sure not to miss!