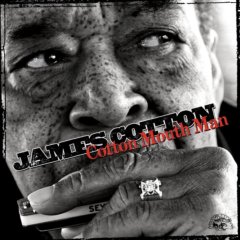 As far as we can tell, blues harmonica giant James Cotton has never published a memoir, nor has anyone yet written a book on the life of this extraordinary bluesman, who's been playing since age nine. And with the release today of Cotton's latest album Cotton Mouth Man (Alligator Records), such a literary work may never be necessary, as remarkable a job as the now 78-year-old Cotton and producer Tom Hambridge have done in documenting the man's life, not on printed page, but in the same manner Cotton has been expressing himself for nearly seven decades, through his music. Many of the songs on Cotton Mouth Man speak directly to Cotton's roots – the title track, "He Was There," "Mississippi Mud," and "Bonnie Blue" being perhaps the most obvious examples – with Cotton and Hambridge having collaborated on the writing of seven tracks (while Hambridge also helped to pen the other five original tracks).
As someone who's known and worked with many other blues greats throughout the years (having learned to play harmonica from Sonny Boy Williamson II, toured with Williamson and Howlin' Wolf, and spent 12 years in Muddy Waters' band before venturing out on his own), it's perhaps only fitting that Cotton has invited a few friends along on this particular ride, with guest appearances from Keb Mo, Gregg Allman, Warren Haynes, Joe Bonamassa, Ruthie Foster, and Delbert McClinton. As great as each of their individual contributions may be, never do these guests detract from the real star of the program in Cotton, who, even in his later years, remains the best blues harmonica player around.
The album opens on a shuffling title track that features six-string hotshot Joe Bonamassa on guitar and longtime Cotton band singer Darrell Nulisch on vocals, with Hambridge's drums providing a driving beat. After relinquishing singing duties to the likes of Nulisch several years ago following a bout with throat cancer, it's good to hear a bit more of Cotton's voice this time around, from his introduction of the next song with a croaky "Midnight Train to Mississippi," to his response of "That was me" after a lyric about his having played both Fillmores and Carnegie Hall on "He Was There," to personally handling the vocals on the closing "Bonnie Blue."
But it's Gregg Allman who supplies the soulful vocals on the fast-moving "Midnight Train", starting with some train-like harp from Cotton, before Keb Mo takes over on mic for the slow Delta blues of "Mississippi Mud". The pace picks up again with a Bo Diddley-like "He Was There" that again features Nulisch on vocals and some particularly nice playing from Chuck Leavell on piano, one of several supporting players who help make an already impressive project all the more solid.
Perhaps the most rocking of the numbers is a gritty "Something for Me" that finds Warren Haynes on both vocals and guitar, while the talented Ruthie Foster contributes some passionate vocals (and Cotton perhaps the bluest harmonica you've heard) on a smoldering "Wrapped Around My Heart" and Delbert McClinton brings some soul on a "Hard Sometimes" that he also co-wrote with Hambridge. "Saint on Sunday" and "Young Bold Women" offer a few more romping tracks with Nulisch on mic, leading up to a splendid cover of Muddy Waters' "Bird Nest on the Ground" (written by Maurice Dolliver and Monk Higgins) before Keb Mo returns, this time with his guitar, for a "Wasn't My Time to Go" that features Leavell on Wurlitzer and such reflective lyrics as "so many good friends of mine have come and gone, I'm still blowin' and goin', and carryin' on."
That's followed by yet another barnburner of a tune in "Blues is Good for You" before Cotton's hoarse vocals close out the album with the "hometown blues" of "Bonnie Blue," a fond look back over a life that began on the Mississippi cotton plantation of the same name, with Cotton joined only by Colin Linden on Resonator guitar.
A superb follow-up to Cotton's 2009, Grammy-nominated Giant, Cotton Mouth Man is sure to follow suit, as Cotton blasts and blows his way from song to song with appropriate force and finesse, depending on the mood. As we've noted before and probably will many times again, when it comes to blues harmonica, there's simply no one better than Mr. Superharp himself. Should Cotton one day authorize or decide to dictate his own biography, we look forward to reading the many stories we're sure the blues master has to relate, but until then, we have to say we're pretty darn content hearing from him in song.