Although bluesman Grady Champion's soulful 2014 album debut on the Jackson, Mississippi Malaco Records label, Bootleg Whiskey, was a magnificent one, his latest recording finds Champion bringing things even closer to home for the longtime soul, blues and gospel label, which through the decades has featured such names as Bobby "Blue" Bland, Johnnie Taylor, Tyrone Davis, Dorothy Moore, and Little Milton on its roster of artists, with Champion paying homage to another of Malaco's most successful musicians on Steppin' In: A Tribute to ZZ Hill.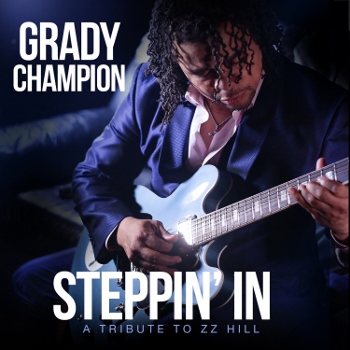 Here, Champion covers Hill's biggest hits, from the gritty soul grooves of the opening "Down Home Blues" (George Jackson) and "Someone Else is Steppin' In" (Denise LaSalle) to swaying numbers involving affairs of the heart like "Everybody Knows About My Good Thing" (Little Johnny Taylor) with its stinging guitar from Eddie Cotton and Jackson's soft, slow "Cheating in the Next Room", many of the dozen tracks accented by female backing vocals and horns (when Champion himself isn't blowing away on harmonica, such as on the particularly gravelly-vocaled "Shade Tree Mechanic", slow-grooved "Open House at My House" and truly grinding "Bump and Grind").
Sam Brady contributes some fine work throughout on keyboards and organ, including on the funky closing track "When It Rains It Pours", with other numbers including "I'm a Blues Man", "Who You Been Giving It To", "Three Into Two Won't Go" and the breezy "Right Arm for Your Love", all delivered in a way that fans of Hill and other soul blues music are certain to approve of and appreciate. And if you haven't ever — or it's been a while since you've — heard Hill's versions of these songs (many of which can be found on his Greatest Hits compilation), be sure to check those and some of Hill's other work out also to get a feel for the greatness (which ranks right up there with that of such other underrecognized bluesmen as Johnny "Clyde" Copeland and Luther Allison) that inspired Champion to make this terrific record.
With Hill having died more than 35 years ago, it's nice to hear someone like the extremely talented Champion steppin' in to help make sure that Hill's music — including some of our all-time personal favorite tracks — continues to live on for decades to come.