UK writer/blogger Breton Towler offers these thoughts on a recent performance from one of blues' greatest at the Birmingham Symphony Hall.
Seven times a Grammy award winner and an inductee of the Rock & Roll Hall of Fame. Yet he needs no introduction. Buddy Guy may have only just turned 80 years young, but when he attacks the fretboard of his beloved polka dot Stratocaster, the blues has never felt so alive.
Birmingham Symphony Hall was spellbound by one of the greatest axemen in history who shows no signs of slowing down. The untamed ferocious assault opening of "Damn Right I've Got The Blues" was a masterclass of raw exuberance and impeccable timing. Blessed with the soul and swagger of his world-class backing band, this tender menace poured out from his head down to his shoes.
Eric Clapton once called him "without a doubt the best guitar player alive", but this wall of sound also served to showcase the supreme showmanship of this old-school bluesman.
Ingenious witticisms about being mistreated by his woman after working for "Five Long Years" and reminiscing about the hardships of the past when he "used to get paid weekly, very weakly" had the audience in hysterics.
There was a feel-good vibe throughout the concert generated by the electrifying energy onstage, and Guy's humble nature was evident throughout – no more so when he allowed his prodigy Quinn Sullivan to join him for the closing stages of his blistering set ending with the glorious funk of "Meet Me In Chicago".
Many people will not have had the fortune of seeing this guitar great up close. He is truly one of a kind – his popularity illustrated by the longing of those in attendance to shake the hand or merely lay a fingertip on this virtuoso as he and his guitar ran rampant amongst the crowd. Nobody can replicate his style or reach the high-octane stratosphere that exemplifies his instinctive way of playing.
Even with his legacy firmly cemented in the annals of blues history, Guy will continue to astound onlookers. Just give his latest album Born To Play Guitar a spin and tell me otherwise. You will feel mesmerised – there is no other way to describe it.
One day we will look back and count on our blessings that Buddy Guy was not just born to play guitar, but that he lived to master it. To quote one of his collaborations with the late B.B King: "Let's hope the Lord lets him stay around a little longer."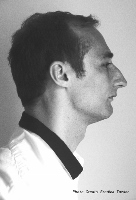 Breton Towler is a freelance writer from Lincoln, England, with a passion for music, sport and travel. To see more of Breton's work, please visit his website at http://tryingtomakepensmeet.com/