Back in October, we gave you a preview of Chicago blues guitarist Harvey Mandel's new album Snake Pit (Tompkins Square) in the form of the tasty title track. Now, we're happy to report that the rest of the album is just as delightful, featuring eight mostly original instrumental tracks that will both astonish and inspire when listeners hear the greatness of which "The Snake" is still capable, especially considering his age of more than 70 years and returning health coming off a nasty battle with cancer.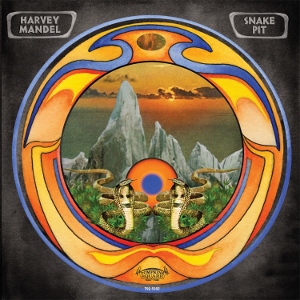 While a number of the songs here are of a blues-rocking variety that could easily be compared to the work of such masters as Jeff Beck, Steve Vai, or Joe Satriani, including the galactically funky opening title track with its frenetic keyboards and the free, open-road vibe of the "Space Monkeys" that follows, the set also includes several tracks that are pretty straight up the blues alley, such as the slow, stinging guitar of "Buckaroo" and swinging grooves of the closing tribute to the late King of the Blues in "Ode to B.B."
In addition to "Space Monkeys" (which originally appeared on Mandel's 1997 Planetary Warrior album), the guitarist revisits two more of his previously recorded tunes in the somewhat tamer "Baby Batter" and greasy, throbbing "Before Six" – both featuring some nice strings – with the slow, quiet ballad "NightinGail" and a "JackHammer" that combines strong, Whitesnake-like guitar with some jazzy keys helping to round out the project.
Mandel's playing is layered with just the right amount of distortion and other effects, backed with remarkable improvisation by a band of fellow Chicago-based musicians whom Mandel had never met nor rehearsed prior to stepping into the studio. After hearing "snippets of song ideas…on [Mandel's] iPhone", the band was able to record each of the tracks in one or two takes, dubbing in strings and percussion later.
A terrific album coming from anyone, Snake Pit is all the more impressive knowing everything Mandel's been through in recent years. Perhaps this is what it sounds like when one just lets life flow…