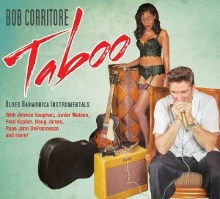 We've written here before about a few projects involving harmonica ace Bob Corritore, including some pretty impressive recent collaborations with the likes of one-time Muddy Waters Band guitarist John Primer (Knockin' Around These Blues) and veteran blues singer Tail Dragger (Longtime Friends in the Blues). While Corritore doesn't officially share the bill with anyone on his new CD Taboo (Delta Groove Music), he did manage to round up a rather nice line-up of guest performers for the all-instrumental album, including guitarists Jimmie Vaughan and Junior Watson, keyboardist Fred Kaplan, and saxophone player Doug James, to name just a few.
Born and raised in Chicago, Corritore has called Phoenix, Arizona, home for the past three decades – or at least as much a home as any place can be between his own appearances worldwide and lending his support and/or production talent to projects from a multitude of other blues players including in recent years Diunna Greenleaf, Mud Morganfield, and The Mannish Boys. Hardly what you'd consider a blues mecca, Corritore has also helped put the city of Phoenix on the blues map with his famous Rhythm Room club and a weekly blues show on local radio station KJZZ.
We were fortunate to see Corritore play along with Tail Dragger and pianist Henry Gray during our last visit to the Rhythm Room a few years back, though we haven't yet had the chance to catch Corritore as the main attraction, which we can imagine being an awful lot like the set to which we're treated on Taboo, a rich sampling of diverse, quality harmonica blues ranging from the often swinging to the slow, serene closer "Bob's Late Hours".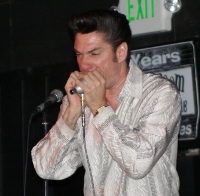 Kicking off the album's dozen tracks is a delightful take on Willie Egan's "Potato Stomp" that features Doug James on saxophone while Junior Watson, Fred Kaplan, and Richard Innes – who provide core backing for much of the album – establish the groove on guitar, piano/organ, and drums, respectively. Corritore's harp adds an appropriately greasy element to the "Many a Devil's Night" that follows, with Watson (who co-wrote the tune with Corritore) providing some Otis Rush-like guitar and Kaplan again turning in a fine performance on the ivories.
From there, it's on to the quiet shuffle of "Ruckus Rhythm", a Booker T and the MGs-ish "Harmonica Watusi" that's guaranteed to have you moving your hips, and the creeping title track, the Lecuona/Russell jazz standard "Taboo", here featuring some surf-style guitar strains. "Harp Blast" is exactly that, making for a swinging good time, followed by the unmistakable guitar stylings of Jimmie Vaughan on the breezy "Mr. Tate's Advice", also featuring Papa John DeFrancesco on organ and some soulful sax from James. That same group returns for the slightly rocking "Shuff Stuff" that comes a few songs later, but not before Corritore's soft wailing harp trades licks with Kaplan's piano and Watson's guitar on "5th Position Plea", followed by a jaunty "Fabuloco (for Kid)", with the bouncing "T-Town Ramble" also helping to close out the album and giving Kaplan another nice chance to shine.
For a man seemingly just as content to share the stage and spotlight with others, Taboo serves as a nice reminder of all that Corritore is capable as a frontman, proving every bit on par with such names as Little Walter, Rick Estrin or Charlie Musselwhite, who in fact provides a rather nice testimonial on the album with words that include "Bob Corritore's new CD is all instrumentals and each one is a jewel. He really nails the '50s Chicago Chess sound, but also exhibits modern ideas…I enjoyed listening to every tune and you can bet I'll be listening to them all again."
The last instrumental CD about which we were this excited was last spring's offering from Ronnie Earl & the Broadcasters (Just for Today), which you may recall our referring to at the time as perhaps "the best instrumental blues album we've heard. And not as in just this year. Possibly ever." Taboo may not quite top that one, but it is certainly up there (not to mention how extremely gratifying it is to hear another such strong collection of blues instrumentals so close on the heels of Earl's); this is one you're definitely going to want to check out.