I still don't know quite how it happened, but somehow I managed to miss ever hearing the 2008 debut album from the Homemade Jamz Blues Band, a much-acclaimed trio of siblings ages 11 to 17 who burst onto the national blues scene when they took second place in the 2007 International Blues Challenge. Could be that I took the title of that album – "Don't Pay Me No Mind" – a bit too literally, or, being the cynic I am, that I subconsciously thought all the hype around the band was more about their ages than it was the actual music. You'd think I might have at least caught on and given the album a listen when it earned the band a 2009 Blues Music Award nomination for best new artist debut, making them the youngest-ever nominees in the history of the awards.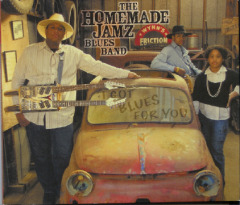 But no, it wasn't until I heard the group's new CD "I Got Blues for You" (provided to me by the kind folks at the band's Northern Blues label) that I had any inkling of what I might have missed from the band the first time around. Starting off strong with Hard Headed Woman, the band's sophomore release doesn't let up until the closing title track, offering plenty of funk in the meantime with songs such as King Snake and the album's only cover, Little Milton's Grits Ain't Groceries.
This group of youngsters has a surprisingly tight, compelling sound, with lyrics (written by father Renaud, who also guests on harmonica) and vocals (by eldest sibling Ryan) that evoke a maturity well beyond their years (Heaven Lost an Angel and Alcoholic Woman are two particularly good examples), providing a hip, energetic performance that easily rivals music from the likes of Robert Randolph and Back Door Slam. Give Rumors and Loco Blues a listen if you don't believe me.
So if, like me, you've been remiss in checking out the Homemade Jamz Blues Band, it might be best to do while it's still somewhat early in their career. Otherwise, you may find yourself with a lot of catching up to do in another year or two.
Now, if you'll please excuse me, I believe I have a 2008 album to download.