We hadn't heard much about British blues-rocker Ian Parker before we caught a track from his new album on BBC recently, but that — plus learning that said album was a tribute to Chicago blues musician/writer/producer and "Poet Laureate of the Blues" Willie Dixon — was enough to pique our interest in the project. Parker isn't, of course, the only blues singer/guitarist to pay tribute to individual blues legends in recent years, with a few earlier examples including Joe Bonamassa's tributes to first Muddy Waters and Howlin' Wolf and then B.B., Freddie and Albert King through his Muddy Wolf and Three Kings of the Blues concerts, respectively; Big Head Todd and the Monsters joining forces with B.B. King, Hubert Sumlin, Charlie Musselwhite, Ruthie Foster and others as the Big Head Blues Club to honor Robert Johnson and then, more recently, with Billy Branch, Ronnie Baker Brooks and Mud Morganfield to also pay tribute to Willie Dixon; and Walter Trout helping to remember Luther Allison through his Luther's Blues: A Tribute to Luther Allison recording.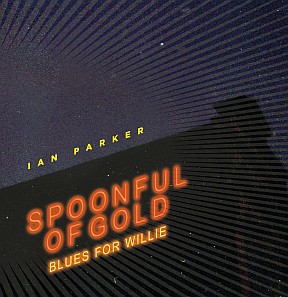 Even though a few of the songs on Parker's Spoonful of Gold are ones also covered on the earlier tributes from Bonamassa or the Big Head Blues Club (including, for example, "Evil", "Spoonful", "My Love Will Never Die", and "The Seventh Son"), with Parker's vocals at times even sounding pretty close to those of Big Head's Todd Park Mohr while at other points evoking Davy Knowles (Back Door Slam), Parker delivers it all in an ambitious, engaging fashion. While the Big Head Blues Club relied in part on its guest performers to help provide some diversity in sound, you really have to give Parker credit for undertaking the effort alone with his band, who very much rise to the occasion and help create an impressive and memorable offering. Even if a few of these interpretations sound somewhat like stuff we've heard before, everything here is solid, with Parker & co. delivering perfectly commendable renditions of more familiar Dixon tracks like the opening gritty, rocking "Evil"; a "I Just Want to Make Love to You" that starts on some muted Led Zeppelin-ish licks and is then filled with subdued wah riffs; a creeping, eight-and-a-half minute "My Love Will Never Die" that includes pleading falsetto vocals from Parker; and the closing "Spoonful".
But the biggest highlights here may in fact be some of the less familiar Dixon numbers Parker tackles, such as the breezy, island-sounding "Mighty Earthquake and Hurricane" with its Spanish-style guitar, handclaps, and harmony vocals, a groovy "I Can't Understand" (co-written with Los Lobos' Cesar Rosas and recorded for the band's 1990 album The Neighborhood) that has about as modern a sound as you can get for a Dixon song along with its yearning vocals, and the swaying, simmering rocker "Weak Brain, Narrow Mind".

"There has been no attempt to directly replicate Willie's own versions of these songs, or the interpretations of…other artists who have inspired me over the years – often through their outstanding renditions of Willie Dixon songs," states Parker in the album's liner notes. "Those influences are all there in the mixing pot, but I hope that, on balance, this recording comes across with a good measure of myself in there too."
And that's exactly what Spoonful of Gold accomplishes: not only is it a terrific, somewhat familiar, way for Parker to introduce himself to more of the blues public, but the album is intriguing and strong enough that it should also lead many to check out Parker's earlier recordings and look to catch him live when they can.