Jimmie Vaughan may never achieve quite the same level of recognition from the general public as his late, great younger brother Stevie Ray, with Jimmie's music generally tending to gravitate more towards the laidback, traditional side of the genre, closer to a T-Bone Walker or B.B. King than the world-famous blues-rocking sibling Jimmie helped to inspire. But there's no denying that Jimmie — a founding and longtime member of The Fabulous Thunderbirds — remains one of the most respected blues guitar players on the scene today, frequently sharing the stage with the likes of Eric Clapton (who, you may recall, joined Vaughan for a few numbers at last summer's Project Blues fundraiser in Columbus and has invited Vaughan to participate in each of his Crossroads Guitar Festivals, in addition to having had Vaughan open for and play a few songs with him during his recent three-night run at the Royal Albert Hall), with Vaughan's latest album Baby, Please Come Home (Last Music Co.) being a prime example of just how he came to attain  such a lofty position in the blues world.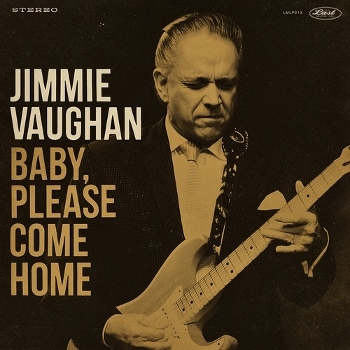 So while they may not be the most aggressive or flashy, Vaughan's band here is consistently good and really cooks their way through this 11-track offering of some of Vaughan's favorite songs, from the cool, swaying croon of numbers like Huey Meaux's "Just a Game" and T-Bone Walker's "I'm Still in Love With You" on one side of the spectrum to the uptempo swing of Chuck Willis' "What's Your Name?" and groovy, almost-Stevie Ray Vaughan and Double Trouble-sounding instrumental "Hold It", with lots more swinging and shuffling in between.
Other highlights include the opening title track (Lloyd Price), the swaying rocker "It's Love Baby (24 Hours a Day)" (Earl Gaines), and a simmering "Midnight Hour" (Clarence "Gatemouth" Brown), as well as a nice take on country music master Lefty Frizzell's "No One to Talk to (But the Blues)", although, truth be told, everything here is terrific, thanks in part to Vaughan's crisp vocals and some delightful accompaniment from regular band members Mike Flanigan (Hammond organ) and George  Rains (drums) as well as guests that include The Texas Horns, baritone sax player Doug James, bassists Ronnie James and Billy Horton, tenor saxophonist Greg Piccolo, and rhythm guitarist Billy Pittman, among others.

Rounding out the project are covers of tracks from Fats Domino ("So Glad"), Jimmy Reed (the closing "Baby, What's Wrong"), and Etta James (a big band-ish "Be My Lovey Dovey" that features Georgia Bramhall and Emily Gimble on backing vocals), making Baby, Please Come Home an album that new and longtime fans of Vaughan alike will surely appreciate and want to take home.