We've been looking forward to guitarist and singer Joanne Shaw Taylor making an appearance here in the 'burgh now for some time, so we were pretty happy to be able to catch her at Moondog's just before we set off on a family beach vacation, even if that did mean having to wait until after our trip to post something on the show.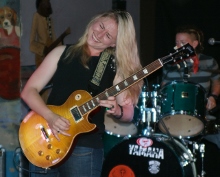 Just as on her recent Songs from the Road live CD/DVD set, Taylor delivered another dazzling set of songs spanning all three of her studio releases so far, ranging from such rocking numbers as the "Jump That Train" and "Tied & Bound" that opened the two sets, respectively, to the smoky vocals of a delicate "Beautifully Broken" and the Stevie Ray Vaughan-like licks of the instrumental "White Sugar". In between also came a lengthy "Watch 'Em Burn", a slow "Diamonds in the Dirt" with drummer Layla Hall and bassist Paul Lamb contributing some solid background vocals, a cover of Jimi Hendrix's "Manic Depression", the cool, quiet grooves of "Time Has Come", a peppy "Kiss the Ground Goodbye", and the soft, breezy "Just Another Word".
But perhaps the highlight of the evening was the band's killer take on the Freddie King classic "Going Down" – one of the best versions of the song we've heard – that capped off the 90-minute opening set, combining Detroit grunge with some delicate, U2-ish tones, with Hall using one of her long dreadlocks in place of a stick at one point during her drum solo and Taylor also stepping into the audience for a time.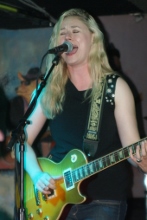 The band returned for a short second set that included a rocking "Let It Burn" and shuffling "Going Home" after kicking off on the aforementioned "Tied & Bound" and "White Sugar", then closing the night with a shuffling Chicago-style instrumental encore that we're thinking/hoping could have been a preview to her upcoming Jim Gaines-produced studio CD, The Dirty Truth, coming in September.
As good as Taylor sounds on her recordings, her voice and playing are even more impressive in person, with Hall and Lamb providing just the right amount of rhythm support. And with that next CD due out this fall, there will likely be even more to look forward to in Taylor's next visit to the 'burgh. We're keeping our fingers crossed that we'll be lucky enough to catch her again soon, and you should probably shoot to do the same, wherever you may be.