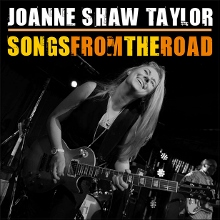 We've written here a few times before about the British-born, now U.S.-based blues rocker Joanne Shaw Taylor.
And we've also told you about Ruf Records' popular Songs from the Road series, including a recent set from fellow Brit guitar slinger Oli Brown.
So it shouldn't come as all that much of a surprise that you get a pretty terrific result when you put the two together in one project, as Ruf has done quite nicely with Taylor's Songs from the Road CD/DVD set, recorded at London's The Borderline club earlier this year.
Featuring 11 tracks ranging from the breezy and soft "Beautifully Broken" and "Diamonds in the Dirt" to the driving "Tied and Bound" and playfully funky "Kiss the Ground Goodbye" – all showcasing Shaw's husky vocals and thick guitar, the CD presents live versions of songs from all three of Taylor's studio albums, beginning with a trio of cuts off Taylor's latest, Almost Always Never. The stinging opener "Soul Station" is followed by a "Tied and Bound" that includes some particularly intense guitar solos from Taylor before the band softens the tone a bit with "Beautifully Broken".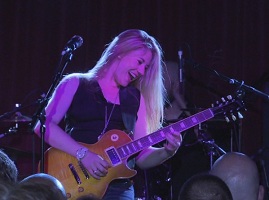 From there, Taylor reaches back to her debut album White Sugar with a powerful, ten-minute take on "Watch 'Em Burn", then moving to the title track from her sophomore project Diamonds in the Dirt.
Jimi Hendrix's "Manic Depression" is one of two cover songs on the CD (mixed and produced by the talented Jim Gaines), along with the slow, smoky blues of Frankie Miller's "Jealousy", a studio version of which can be heard on Almost Always Never.
Taylor returns to her 2009 White Sugar album for both "Kiss the Ground Goodbye" and the tender, catchy "Just Another Word", shifting back to Diamonds for the rocking closer "Jump That Train" before returning with an encore in the form of the smoldering lead track from White Sugar, "Going Home". It's either somewhat fortuitous or extremely well-planned that this same song which for so many served as the introduction to Taylor (by virtue of it appearing first on her debut album) happens to be the last track they hear here, providing a terrific reminder of just how far Taylor has come in short time.
The 14-song DVD adds a handful of other favorites, largely from Taylor's most recent album – represented through the breezy "You Should Stay, I Should Go", heartfelt "Almost Always Never", and quiet and sensitive "Lose Myself to Loving You" – but also including Diamonds' gritty "Let it Burn" and the slow blues of White Sugar's "Time Has Come", leaving out only "Manic Depression" from the CD.
In addition to longer and more frequent solos from Taylor than you'll hear on her albums, this live set also provides the opportunity to see the energy and passion with which the somewhat elusive (at least for those of us in Pittsburgh) Taylor and her band, particularly bassist Joseph Veloz, perform.
Like most of the other sets in the Ruf series, this Songs from the Road is one well worth checking out.