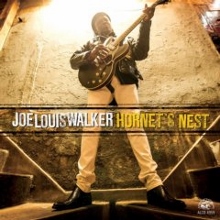 After delivering all kinds of Hellfire on his 2012 album, blues singer and guitarist Joe Louis Walker is back with another terrific offering on Alligator Records in Hornet's Nest. Like that prior project, Hornet's Nest was again produced by Tom Hambridge, who also contributes drums, tambourine, percussion, and background vocals in addition to co-writing nine of the album's dozen tracks, including four with Walker.
Among the latter is the powerful title track that opens the album, with blistering guitar work and in-your-face lyrics that you know are going to be dangerous just as soon as you hear the opening line of "Well, I want you to know that I'm a jealous man…". Things move from stinging to swinging for another Walker-Hambridge original – the R&B soul grooves of "All I Wanted to Do" – featuring horns from the Muscle Shoals Horn Section as well as some falsetto vocals from Walker, before the band slows things down with the creeping blues of "As the Sun Goes Down", combining intense, occasionally growling vocals and some Santana-like riffs with lyrics such as "sends a chill right through my bones/ as the sun goes down, I'm nothin' but alone".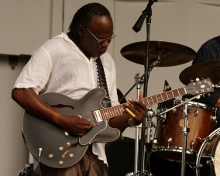 The Muddy Waters-style "I'm Gonna Walk Outside" that comes a bit later is another fine slow blues track, with some particularly good work on keyboards from Reese Wynans, but, ever the showman, Walker offers a whole lot more in between, moving from one distinct sound to another, from the fun, in-your-face, destined-to-become crowd favorite "Stick a Fork in Me" (we can just imagine Walker closing his live sets with this one) much in the style of Hellfire's "Too Drunk to Drive Drunk", to a doo-woping take on the Jerry Lee Lewis classic "Don't Let Go" (Jesse Stone) that finds Walker slipping into deep-voiced Elvis mode, to the raucous party jam "Soul City", through which Walker takes us on a world tour of the soul-filled cities he's played (sorry, fellow Pittsburghers, but this is one list we didn't make, with Walker bypassing the Steel City on his way from "Cleveland, Ohio, to New York City, and Philadelphia, PA").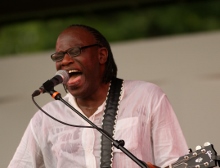 Also included are the Robert Johnson-like riffs and feel-good shuffle of "Love Enough", a breezy, bubblegum pop version of the Rolling Stones' open road number "Ride On, Baby" – the sweet sounds of which help to soften such biting lyrics as "you may look pretty, but I can't say the same for your mind" and "By the time you're 30, gonna' look 65" – and a rocking "Ramblin' Soul" featuring more terrific keyboards from Wynans alongside some killer guitar. Closing out the album with the pyschedelic 70s/80s-sounding rocker "Not in Kansas Anymore" and quiet, gospelish "Keep the Faith" – this time with Wynans on Hammond organ, Walker ensures Hornet's Nest is one that will keep critics and fans alike buzzing for a long time to come.