The last we heard from the guitar-slinging Joe Louis Walker, he and some friends were caught up in quite a Blues Conspiracy aboard the Legendary Rhythm & Blues Cruise. After the switch to a new label and a little time in studio with talented producer Tom Hambridge (Buddy Guy, Susan Tedeschi, George Thorogood, Johnny Winter), Walker has both feet squarely back on land with his Hellfire, what he describes as the hardest rocking and most deeply soulful album of his career.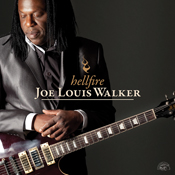 Out today on Alligator Records, Hellfire includes five tracks co-written by Hambridge (two with Walker), and another five penned or co-written by Walker, in addition to one cover in Hank Snow's "Movin' On." The funky title track gets the album off to a rocking start, combining powerful lyrics regarding the struggle between good and evil ("Burning down the Devil's highway, lovin' everyone I meet/ tryin' to live my life the right way, but the flames are nippin' at my feet/ Hellfire, it's my curse/ Hellfire, that's my church") with a blistering guitar solo much aligned with the song's name, along with some spunky organ from Reese Wynans. As thrilling a start as that may be, things get even better with a slow and bluesy "I Won't Do That" that provides the perfect forum for Walker's vocals, followed by the Rolling Stones-like "Ride All Night" with background vocals from Wendy Moten.
"I'm On To You" is another straight-ahead blues track featuring Walker on harmonica as well as vocals, while the slow, driving, at times Stevie Ray Vaughan-sounding "What's It Worth" is one of the album's more impassioned tunes both vocally and musically. With the exception of a boogeying take on Snow's "Movin' On" that closes the album, the remainder of the tracks are all Walker compositions, and find him tackling topics ranging from the religious (the Robert Randolph-like "Soldier for Jesus" with its terrific slide guitar, and "Don't Cry," both featuring the vocal harmonies of the Jordanaires) to inebriation ("Too Drunk to Drive Drunk") to race (a "Black Girls" on which Walker declares "You got to have those black girls, to put the soul back up in your song" and pays tribute to such luminaries as Tina Turner, Ruth Brown, Aretha Franklin, and Shemekia Copeland, including a few lines from Turner's classic "Proud Mary").
It's hard not to be entertained by the Bob Seger-ish "Too Drunk to Drive Drunk," in which the car keys may have been taken away but Wynan's are still in full force, buoyed further by Walker's guitar and some terrific horns, while "I Know Why" and "Don't Cry" are both solid R&B numbers, the former a passionate ballad accompanied by those same horns, the latter an uplifting and catchy gospel-infused track much in the vein of Mac Arnold's "I Can Do Anything."
Wynan's keys are a highlight throughout, particularly on songs such as "I Won't Do That," "Black Girls," and the closer, as well as those mentioned above, and Hambridge, as always, does a fine job on drums. Despite its title, this one from Walker will undoubtedly leave many fans in blues heaven, or at least wondering how it is that Hell can feel this damn good.