This spring, we told you about a 16-song collection purporting to contain the finest recordings of guitarist and singer John Lee Hooker, a bold claim considering the multitude of recordings the native Mississippi bluesman made during his lifetime. As solid and terrific a set as Whiskey & Wimmen: John Lee Hooker's Finest is for those seeking a quick dose of Hooker's infectious grooves, it would turn out to be, to borrow from the lyrics of one of Hooker's songs, really just a "little wheel 'til your big wheel come", with Craft Recordings/Concord Bicycle Music recently rolling out an expansive 5-disc box collection providing a whole lot more for Hooker fans to get lost in.
Fans of that earlier compilation will be glad to learn that all but one of the songs ("Whiskey & Women") included there can also be heard in some form on the 100-track John Lee Hooker: King of the Boogie, a few, in fact, in multiple versions, with songs like "Boogie Chillen'", "Boom Boom", "Dimples", and "I'm in the Mood" presented in both studio/solo and live or collaborative (and in a couple of cases, all three) versions on this larger set.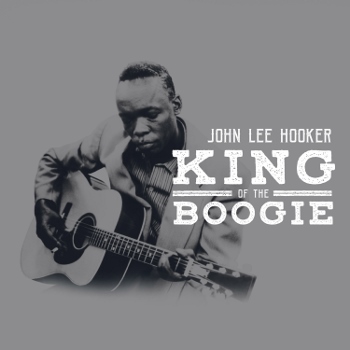 The collection, for example, begins and ends with different versions of Hooker's earliest hit "Boogie Chillen'", the first, a crackling recording of just Hooker and his guitar from the September 1948 solo session that launched Hooker's career and that helps establish the boogie from the set's very start. Contrast that to the later (as in five decades later) more rocking version, which captures a much older Hooker joined by Eric Clapton, Rick Kirch, and Johnny Lee Schell all on guitar and incorporates some lively keyboards, one of only a few songs on which Hooker begins to show his age vocally. In between, there's also a live acoustic solo version of the song from 1962, a rather low-key performance with a soft-spoken intro that, along with the other songs included here from that same San Francisco blues club (Sugar Hill) show — the much more traditional, Sonny and Brownie-like than boogeying "Bottle Up and Go" and creeping "Crawlin' King Snake" (also representing the second version of the song) — helps remind the listener just how smooth Hooker's voice and playing could be.
"Boom Boom" receives a similar three-version treatment, including a collaboration with guitarist Jimmie Vaughan on which they're backed by Robert Cray's band and that may just be the most powerful version you'll ever have heard; an energetic, previously unreleased live version from a May 1983 performance in Berlin; and a 1961 studio rendition with shuffling horns that also nicely captures the essence of Hooker's style.
You'll also hear both studio and live takes of songs like "Hobo Blues", "Maudie", "It Serves Me Right to Suffer", and "One Bourbon, One Scotch, One Beer" (the live versions of the latter two having also been previously unreleased) as well as both solo and collaborative versions of "Sally May" (with George Thorogood), "I'm in the Mood" (with Bonnie Raitt on slide guitar and vocals), "Dimples" (with Los Lobos), and the swaying, seductive "Don't Look Back" (with Van Morrison also on vocals and Charles Brown on piano).
There are, of course, many of Hooker's other hits and popular songs, from such raw solo numbers as the mostly instrumental "Hoogie Boogie" and aggressive "Huckle Up Baby" — both great examples of how Hooker frequently helped add to the rhythm with snapping and/or a plywood board or wooden folding chair beneath his tapping feet — to the slightly expanded grooves of songs like "I'm a Boogie Man" with Eddie Kirkland also on guitar or "Big Legs, Tight Skirt", "No More Doggin'" and the creeping "No Shoes" on which Hooker is accompanied on bass and drums, to the terrific full band sounds of a "I Love You Honey" that includes Eddie Taylor on second guitar, horns-laced versions of "Frisco Blues" and Berry Gordy, Jr.'s "Money" (with the latter also including Motown's Mary Wilson and the Andantes on backing vocals), a "The Healer" with keyboards, drums, timbales and congas on which Hooker is joined by guitarist Carlos Santana, and a 1966 performance of "I'm Bad Like Jesse James" from NYC's Cafe Au-Go-Go where Hooker was backed by Muddy Waters and his band, including Otis Spann on piano, Francis Clay on drums, Mac Arnold on bass, and Sammy Lawhorn and Luther Johnson also on guitar.
Along with that are numerous covers of, or variations on, blues classics and traditional songs such as "Five Long Years" (a patient, flute- and piano-accented duet with Joe Cocker on tambourine and vocals), "Blues Before Sunrise", "Good Mornin' Lil' School Girl", "Rollin' & Tumblin'" (here called "I Rolled and Turned and Cried the Whole Night Long"), Muddy Waters' "You Shook Me" (which finds Hooker paired with B.B. King on vocals and guitar, with Robert Cray also on guitar, Roy Rogers on slide guitar, and Kim Wilson on harmonica, backed by a horn section and Cray's band, and recorded for King's Blues Summit album; it's hard to beat these two blues giants singing and playing off one another, with King, for example, pleading "sometimes I wonder…what's gonna happen to my poor wife and child" as Hooker sings "you, you, you, you, you, shouldn't shake me the way you do"), "Will the Circle Be Unbroken", "See That My Grave is Kept Clean" (Hooker's "Two White Horses"), "Big Road Blues" (presented as "Dusty Road"), Big Boy Crudup's "Who's Been Foolin' You" ("Who's Been Jivin' You"), and "Catfish Blues" ("Drive Me Away").
If all that's not already enough to make you go out and buy it, John Lee Hooker: King of the Boogie also includes five other previously unreleased tracks: studio takes on a slow-shuffling "Unfriendly Woman [aka Stop Now]" that features Jimmy Reed on harmonica and Eddie Taylor on guitar; the whispering gospel of "When I Lay My Burden Down"; and something of a variation on Hooker's earlier "Weeping Willow Boogie" in the midtempo boogie "Meat Shakes on Her Bone", as well as funky, shuffling live versions of "She's Gone" and the Tommy Tucker hit "Hi-Heel Sneakers" from the same Berlin show as the aforementioned unreleased versions of "Boom Boom", "It Serves Me Right to Suffer", and "One Bourbon, One Scotch, One Beer", all featuring the late Deacon Jones on Hammond B3.
There's way too much here for us to be able to get into it all, but here are a few of our other favorites from the collection:
"Black Man Blues" – This noisy, slow-shuffling solo number is vintage Hooker, even though credited to Texas Slim, one of many pseudonyms used by Hooker during his career to get around record contracts, along with such others you'll find on this set as Delta John, John Lee Booker, Johnny Lee, and Sir John Lee Hooker.
"Goin' Mad Blues" – A crackling, more uptempo boogie, this solo track was released under the name of Delta John, but might have some wondering if Delta John could indeed have been going mad, first referring to himself in its lyrics as Slim and then interjecting a "Play it now, Slim" during one of his own solos. Until, at least, you realize that the song was recorded at the same November 1948 Detroit session as "Black Man Blues" but released by a different label (Regent) as his Texas Slim (King) appearance!
"John L's House Rent Boogie" – A hard-stamping, partly humming boogie about not having a job to pay the rent.
"Down Child" – A slow blues number featuring deep raw, almost cracking at times, vocals from Hooker and moaning guitar from Eddie Kirkland with background chatter from Louisiana Red.
"Time is Marching" – A sauntering, smoother-vocaled track with Jimmy Reed on harmonica and Eddie Taylor on guitar.
"Good Rockin' Mama" – A Ray Charles-like rocking boogie complete with horns.
"One Bourbon, One Scotch, One Beer" – While we mentioned it in passing above, this studio version of the Hooker classic is worth coming back to, featuring Eddie Burns on guitar and Lafayette Leake tickling the ivories.
"The Motor City is Burning" – A dark, funky midtempo shuffle that includes Buddy Guy on guitar and Eddie Taylor on bass.
"Mean, Mean Woman" – A blues creeper, with Hooker backed by a second guitar, bass, drums, piano/organ, and harmonica.
"Homework" – A trio of guitars, along with bass, synthesizers and drums give this one a funky, much different sound than many others you'll hear from Hooker.
"Early One Morning" – A slow shuffling number with a slight rock edge that features some superb organ from Deacon Jones.
"Rocking Chair" – A patient solo number with aggressive, Spanish style guitar strumming, this song (which Hooker noted as his favorite off his The Healer album) serves as a prime example of Hooker's freewheeling approach to the blues, changing things when and how he pleased during a song. As Hooker himself once observed: "You know, my style, what I got, I don't go by a certain time – 8, 12, and 16 [bars], which I can do it perfect if I want to. But I'm known not to do it, and I don't do it. I'm allowed to jump here and jump there, because that's the way the blues is. Just lower your head and play the blues…I do that on some of my songs – perfect intention – but then I do it unperfect when I don't want to do it perfect."
"Hittin' the Bottle Again" – Recorded during the same February 1987 session as "Rocking Chair", this surpringly peaceful, quiet track has a West Coast vibe similar to that of Paul Pena or Alvin Youngblood Hart.
"Maudie" – A live acoustic performance from the 1960 Newport Folk Festival, Hooker brings things down to a whisper on this track that features only Hooker's guitar, voice and tapping foot, along with Bill Lee on bass.
"Shake It Baby" – Hooker is joined by T-Bone Walker on piano and Willie Dixon on bass, among others, for this lively, shuffling number from the 1962 American Folk Blues Festival in Hamburg, Germany.
"Never Get Out of These Blues Alive" – A swaying 10-minute duet with Van Morrison from 1971 that also includes Paul Butterfield Blues Band members Elvin Bishop on slide guitar and Mark Naftalin on piano.
"Mr. Lucky" – A collaboration with Robert Cray and his band featuring soulful, ripping vocals and guitar from Cray and superb organ from James Pugh.
"Up and Down" – This trudging shuffler pairs Hooker with slide guitarist Warren Haynes and includes Johnnie Johnson on piano.
This career-spanning box set also includes Hooker playing with Canned Heat ("Peavine"), The Groundhogs ("Mai Lee"), Steve Miller ("Doin' the Shout"), and Hooker's son John Lee Hooker Jr. (an energetic "Boogie Everywhere I Go" recorded at the Soledad Prison), as well as unconfirmed appearances from the likes of Pops Staples on guitar ("I'm Going Upstairs"), Memphis Slim on piano ("I'm Leaving", "Birmingham Blues", and the "Don't Look Back" studio version); and Martha Reeves & the Vandellas on backing vocals ("Don't Look Back" studio version).
Together, the set is about as nice a tribute as you can get to this son of a Mississippi sharecropper who would go on to become a member of both the Rock and Blues halls of fame, the recipient of a star on the Hollywood Walk of Fame, and a winner of four GRAMMY awards, along with a Lifetime Achievement Award from the Recording Academy in 2000. It comes as part of a year-long celebration around what would have been Hooker's 100th birthday in August, and serves as a companion piece to an exhibit of the same name that is on display at the GRAMMY Museum Mississippi through February 2018 before relocating to the GRAMMY Museum at L.A. Live.
Despite its title, this collection includes a lot more than boogie, with songs like "Blues Before Sunrise" and "Five Long Years" reminding us that Hooker did every bit as well on the softer, slower numbers as the boogies that helped make him famous, while tracks like "Wobbling Baby", "I'm a Boogie Man", a horns-laced "Shake, Holler and Run" (to the rhythm of "Shake, Rattle and Roll") — all featuring Eddie Kirkland on guitar — and, of course, "Boom Boom" all are evidence of Hooker's early influence on rock n' roll, making John Lee Hooker: King of the Boogie one you'll be boogie chillen' to for hours at a time!