Recently, we told you about the latest album from real-life blues brother Benny Turner, which you may recall featured a restored version of a song Turner recorded with piano great Charles Brown just before Brown's death and that had for some time been feared lost in Hurricane Katrina. Today, we're pleased to bring you a track from another long-lost project, this time from gifted Alabama soul/bluesman Sam Frazier Jr., who recorded this tune and the 15 others on his "new" Take Me Back (Music Maker Relief Foundation) album during a three-year period in the late 1960s and early 1970s.
The gravelly, Taj Mahal-like vocals here on "Drippin' Honey" are a sharp contrast to the smoothness you'll hear on such other songs as the horn-laced "I Don't Want Another Love" and choir-backed pop-soul of "Black and White Love" (with its both harmonious sounds and messages, including such lyrics as "If you need an answer, simply stop and realize/ I only see the color of your eyes") that bookend the track, as well as the classy soul of numbers like "Why Do People Play With Feelings", "Don't Spread Your Love Around", and a gospelish "Love, Fish and Bread", one of the few songs on which Frazier can also be heard on harmonica, something he learned from Sonny Boy Williamson.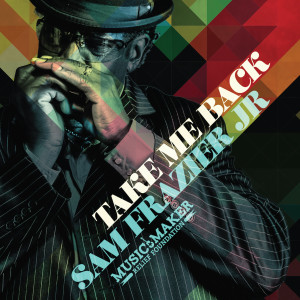 Frazier's soulful vocals rank right up there with the likes of Sam Cooke, Otis Clay, and Syl Johnson as he works through a set of tunes that ranges from the old-time soul of the opening, orchestra-accompanied title track, "I Got to Tell Somebody", and "I Been Hurt", to the more R&Bish "No Account Man" and "Set Me Free", to a haunting, strings-accented, slow funk take on Brook Benton's blues classic "I'll Take Care of You" (Bobby "Blue" Bland).
Many of the songs here feature some nice orchestral, horns and/or choir backing, with other highlights including the plucky "It's Phony But It's Real" that you can almost picture The Muppets performing, with its saloon-style ragtime piano and jazzy horns, the clever closing "Jeremiah's Brother" with its bullfrog and other effects, and an equally entertaining "Mama Said She Ain't Here".
Originally recorded in Birmingham on equipment transplanted from Jimi Hendrix's storied Electric Ladyland Studio, many of the recordings on Take Me Back are being released for the first time, making the album a truly great "find" for lovers of soul-blues!