We've talked here before about the Pittsburgh roots of the bluesman called Louisiana Red, who's logged countless miles since leaving the Steel City for Chicago many decades ago. Having spent 20 years living in Germany, Red's latest project actually finds him in yet another famous U.S. blues town, reunited with an outfit called Little Victor's Juke Joint (Back to the Black Bayou) for Memphis Mojo (Ruf Records).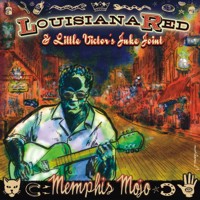 Recorded in Memphis just two days after Red (whose real name is Iverson Minter) took home honors for acoustic artist and acoustic album (You Got to Move with keyboardist David Maxwell) at 2010's Blues Music Awards, Memphis Mojo is precisely what you'd hope for and expect from Red and this line-up, which includes Little Victor and The Hawk sharing guitar duties with Red, Bob Corritore on harmonica, David Maxwell on piano, and Mookie Brill on bass, in addition to a few others. Even if the listener comes in having no idea of Red's rich blues history, which has included jamming with the likes of Muddy Waters, John Lee Hooker, B.B. King, and nearly every other major bluesman, it doesn't take long to figure out that Red is the genuine article, between the album's title and the swampy blues and plaintive vocals of the opening "Goodbye Blues" (only an experienced bluesman such as Red could even think about starting an album with a song about goodbyes).
That's followed by a Robert Johnson-like "I Had Troubles All My Life," with its Delta sound, lyrics about picking cotton in Mississippi, and Red's crackling vocals making it easy to believe he knows just what it means to be troubled. A dark and gritty take on Blind Lemon Jefferson's "See That My Grave is Kept Clean" would fit quite nicely in a True Blood episode, complete with creaking coffin and tolling church bell effects to accompany its lyrics, while the hoarse-vocalled "No More Whiskey" is a shuffling romp through the Hill country a la Junior Kimbrough.
"Just Take Your Time" is a tune more in the Windy City style, with some fine piano from Maxwell in addition to the two guitars of The Hawk and Little Victor. From there, they move to the slow shuffle of "Your Lovin' Man" featuring Red on slide guitar and vocals accompanied by the soulful harp of Corritore, as well as a bit of boogie in "Boogie Woogie Boogie" and a shaking "I'm Gettin' Tired" that shows Red's only really tired in attitude.
Two slow blues numbers help to close the album, "So Long, So Long" and "Grandmother's Death," along with another guitar-driven shuffler in which Red pleads "why don't you come back," which is likely what Blues Music Awards voters will be asking Red upon hearing Memphis Mojo.