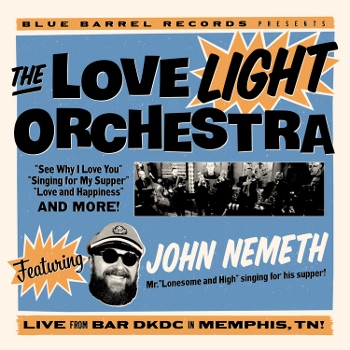 Here's one we've been meaning to tell you about for a while now, a soulful, swinging recording that harkens back to the Memphis big band sound of B.B. King and Bobby "Blue" Bland, with the band, in fact, taking their name from one of Bland's biggest hits in "Turn on Your Love Light". Made up of musicians who have toured and played with Bland, The Bo-Keys, Gregg Allman, Solomon Burke, Robert Cray and others, The Love Light Orchestra also features the talented John Nemeth on vocals; together, they make one hell of a first impression on their debut album The Love Light Orchestra featuring John Nemeth: Live from Bar DKDC in Memphis, TN! (Blue Barrel Records), twelve tracks of soulful, horn-driven blues that range from the swaying style of Percy Mayfield's "Please Send Me Someone to Love" and a quiet, jazzy take on Buddy Ace's "This Little Love of Mine" to the partly falsetto croons of Freddie King's "What About Love" and the closing, shuffling R&B adaptation of Al Green's "Love and Happiness".

Other notable tracks here include the funky "It's Your Voodoo Working" (Charles Sheffield); a creeping "I've Been Wrong So Long", one of two (along with "Poverty") covers of Bland tunes; the uptempo swaying "Sometimes" (Little Junior Parker) that's about as soulfully bluesy as you can get with its chorus of "sometimes I feel like cryin', but the tears won't come down"; and a "Bad Breaks" that's easily recognized as a B.B. King number but is the kind of song we most enjoy hearing from Nemeth, with the two-time Blues Music Award winner displaying a particularly impressive range on vocals.
Three original tracks fit in perfectly with the album's other selections: guitarist Joe Restivo's opening "See Why I Love You?" will get you moving like your name was just called on The Price is Right, with Nemeth's "Lonesome and High" and trumpeter Marc Franklin's "Singin' for My Supper" also proving quality soul blues tunes.
With rich vocals that at times evoke those of Robert Cray or Sam Cooke, Nemeth sounds quite at home fronting the band of nine other musicians, calling out shouts of encouragement throughout the program.
We're not sure if this album was intended as a special one-off collaboration or the kind of pairing we can look forward to hearing additional recordings from in the years to come, but we're certainly hoping it's the latter, especially knowing that Nemeth and the orchestra played together as recently as this past Sunday at Memphis' Beale Street Music Festival. Regardless of the band's plans for the future though, you're going to want to follow Bobby "Blue" Bland's sage advice and turn on the Love Light!
Here's "Bad Breaks" to get you started: