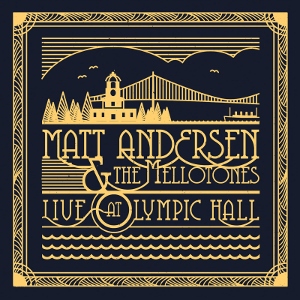 Early last year, we told you how good Canadian guitarist and singer Matt Andersen can be live. If you still haven't gotten the chance to experience that for yourself, you no longer have to take our word for it, with Andersen's latest CD Live at Olympic Hall (True North Records) providing all the convincing you'll need. Backed here by the 10-piece Halifax ensemble The Mellotones, Andersen rolls through some of his catchiest tracks and a few choice covers that together allow him to accomplish just what he set out to do: "mak(ing) a live record that would be something fans could come back to again and again, the way he did when he was a kid, with Eric Clapton Unplugged".
Kicking off on a soaring "Weightless" that will have you feeling good from the get-go while also quickly reminding you that Andersen is one of the most impressive male vocalists around, it isn't until about four songs in (presenting along the way a swinging "Alberta Gold" and breezy, slightly countryish "I Don't Wanna Give In") that Andersen slows things down a bit, first with the somewhat haunting, groove-filled "What Will You Leave" and then the country-soul of a "Coal Mining Blues" that nicely demonstrates the softer, more tender side of Andersen's vocals.

Next, it's right back into the swing of things with a Dixieland cover of (mostly) Canadian brethern The Band's "Ophelia" and powerful, swaying "My Last Day" that just oozes freedom through both its lyrics and musical peaks and valleys.
There's really only one place to go from here and that's up with a forceful take on Freddie King's "Going Down" before Andersen and crew wrap up with a shuffling, smoking "Devil's Bride" complete with some particularly tortured vocals from Andersen and a "greasy, greasy trombone solo" ("so greasy he needs a plunger") from Eric Landry.
The horns and rest of the band give some nice added pop to Andersen's songs, with Lil Thomas ("Going Down", "Devil's Bride"), Paul Rigby, and Brad Conrad also helping out on electric guitar (and Rigby on mandolin) throughout the program. If we have one complaint here, it would be that the album includes only nine tracks from the pair of sold-out November 2014 shows at Olympic Hall, leaving hope that we could at some point be treated to a second volume of the spectacular music that was presented there (or perhaps a reunion show recording considering it's been nearly four years since this, albeit timeless, performance took place).