Recently, we told you about a new CD/DVD featuring the late David "Honeyboy" Edwards. Here's another terrific posthumous release, this from soul blues master Mighty Sam McClain, who you may recall passed away last summer at age 72.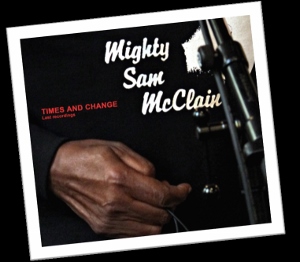 We really enjoyed McClain's Too Much Jesus (Not Enough Whiskey) back in 2012, as did many others, judging by the awards nominations the album received (including Blues Music Award nods for soul blues male artist, soul blues album, and song, as well as a Blues Blast Music Award nomination for song), and this project – entitled Time and Change: Last Recordings (Kirkelig Kulturverksted) – may be every ounce as good, starting on the smoldering, delicately funky grooves of "Let's Talk", with its thick, creeping horns, rich guitar, and messages of "we got to love one another" and "don't fight no more", before moving through a delightful mix of soul, R&B, funk, jazz, and blues sounds.
From the tender strains of the R&Bish "Sweet Love" that helps remind us early on that McClain's voice was among the best, ranking him among such elite company as Solomon Burke, Otis Clay, Bobby "Blue" Bland, Barry White, and Johnny Rawls, and the horn-, keys- and triangle-accented "You Broke My Heart", to the tough soul-funk of "Around Every Corner" and "Let's Do Something", to the grooviest gospel number you'll probably ever hear in "Praise", McClain and longtime musical partner and multi-instrumentalist Pat Herlehey (who also co-wrote much of and co-produced the project with McClain) lead the band through a tight, memorable set that oozes with soul and inspiration, with Sam singing on "Touch Somebody", for example, "I wanna' give my world a hug, and oh, make it a better place" and "my heart is so heavy, feelin' all the pain/ wanna' find a way to stop it, so it never, ever happens again".
There's also a jazzy "Bad Dreams" in the vein of the great Jimmy Witherspoon and the funky, creeping title track, but, to us, McClain was at his best on songs like the aforementioned "Let's Do Something", the slow blues of "Here I Come Again", and the closing "You Worry Me", each featuring McClain's deep, Bobby "Blue" Bland-ish croak, with the latter bringing everything together in the form of its Santana-like guitar riffs, deep horns, and pleading, fulfilling vocals that move from tender to powerful and also include McClain's cool laugh.
Fortunately for Mighty Sam fans, this album – which took a dozen years to make, according to Sam's own note about the project included in the liner materials – won't actually be the last we hear from him, with McClain having also completed both unreleased acoustic and live albums prior his death. But, in the meantime, Time and Change is certainly something to cherish.