You may remember us posting recently about the latest album from the Kenny Wayne Shepherd Band, in which we praised the band for its ability to strike just the right balance of gritty and smooth on its albums. Another great example of the same — this one coming from across the pond — is rising Belfast singer, songwriter and guitarist Dom Martin, whose new album Spain to Italy is not just one of the best debut releases we've heard in some time but among the best albums we've heard from any artist this year, displaying a maturity and diversity well beyond the bluesman's experience and 29 years of age.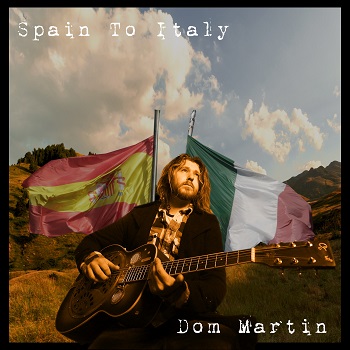 With songs ranging from quiet tender ballads like the heavenly title track and swaying "Luca" to the cowboy-flavored strains of the dark, creeping opener "Easy Way Out" and "come a cow-cow yicky, come a cow-cow yicky yicky yea"-filled "Out on the Western Plain"(Leadbelly) to a simmering, Jeff Healey-ish "Hell for You" to the jaunty, traditional blues (complete with string noise) instrumental "Dry Bone Rag" (Blind Blake) to such rockers as the fuzzy, hypnotic, almost-techno "Dixie Black Hand" and husky, hard-driving shuffle of an "Antrim Blues" that "won't go away" anytime soon after you hear it and its rich slide guitar, Spain to Italy is one pleasant surprise after another.
Somewhat akin to an Irish version of Canada's Matt Andersen with vocals that are equally commanding on both the power and sensitive ends of the spectrum — and everywhere in between — along with some impressive guitar playing, Martin's sound crosses from the likes of those northern North Americans Andersen and Healey to U.S. artists such as Crosby, Stills & Nash and Creed and fellow Irish and English musicians Rory Gallagher, Oli Brown, Davy Knowles and Ian Parker.

It doesn't matter where in the world you call home; you're going to want to check out this rootsy masterpiece from Dom Martin!