We've marveled several times before at Canadian blues-rocker Steve Hill's one-man act, as heard, for example, on Hill's Solo Recordings volumes II and III. And while we've not yet had the opportunity to witness Hill onstage with our own eyes and ears, we're happy to report that the talented musician is no less impressive live, judging by his latest recording The One-Man Blues Rock Band (Manhaton Records).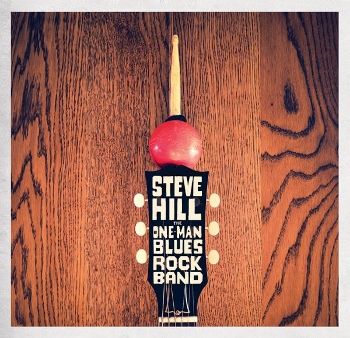 Recorded during a performance in Quebec last fall, the album is a raw, mostly rocking affair that nicely showcases Hill's gruff, gritty vocals, often stinging guitar, and driving drums and other percussion that Hill plays with his feet and a drumstick attached to the head of his guitar, also adding harmonica on several numbers.
Starting on a rocking "Rhythm All Over", Hill doesn't ease up until five songs in with the quiet, rootsy "Tough Luck" that Hill's harmonica helps give a country-western flavor after a nice guitar intro, also hitting the driving "Go On", "The Collector" and "Damned" on the way. Tough, Gary Clark, Jr.-like guitar permeates the shuffling "Never is Such a Long Time" before Hill picks up the tempo with a grungy take on "Hate to See You Go".

After a few swaying numbers in the breezy rocker "Emily" and soft-sung "Out of Phase" (with a slow-dragging, harmonica-laced "Nothing New" between them), Hill is back to the rocking with "Still Got It Bad", "The Ballad of Johnny Wabo", and "Dangerous", closing with a cover of "Voodoo Child (Slight Return)" that itself probably is worth the price of the album and that, along with earlier tracks like "Johnny Wabo" and "Hate to See You Go", serves as a great example of Hill's ability to take a song in several different directions.
The only thing perhaps not to like about The One Man Blues-Rock Band is that it doesn't come in a DVD format, as it sure would be neat to be able to watch Hill as he blows through this set. But that just might give us a bit more of an excuse to catch him live once he returns to the Americas from his current touring with UK acts King King and Danny Bryant!