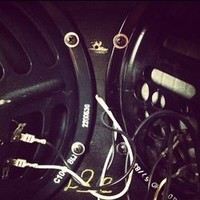 With more than 250 acts from around the world converging on Memphis over the next few days for the annual International Blues Challenge (IBC), we're looking forward to hearing about – and hopefully seeing a few videos from – some of the many talented blues individuals and bands involved in the competition. One group not competing this time around, but who we'd be surprised not to see at the IBCs at some point in the coming years is a band out of Sweden called Julia & The Basement Tapes.
Formed in late 2012, the four-piece ensemble of just-turned or soon-to-be twentysomethings has already put out an impressive 4-song EP, The Basement Sessions, that includes three original tracks plus a rocking cover of "Crossroads". Vocalist Julia Tinglöf is bound to draw comparisons to current and past blues sirens such as Samantha Fish, Dana Fuchs, Joanne Shaw Taylor, and Janis Joplin, while guitarist Johan Borgh contributes some stellar guitar, including a bit of Derek Trucks-like slide, with Samuel Söderberg and Johannes Sidenqvist adding rhythm on bass and drums respectively.
Every song here is a good one in its own way, from the deep, seductive grooves and passionate vocals of the opening "Some Color" to Borgh's scorching guitar solos on "Crossroads", but if you only have time to sample some of the music from the EP, we might suggest you start with the money track, a Joplin-ish diddy called "Money" that you can find on both the band's SoundCloud and YouTube pages (where you can also watch the band performing a few other originals along with covers like Elmore James' "The Sky is Crying" and Freddie King's "Going Down"). And then come back to listen to the rest.
If you like what you hear (and we're betting you will), you'll be pleased to know that the band is already writing songs for an album they expect to release later this year, which, if it sounds as good as their EP, may be all that this talented band needs to bring it up out of the basement and onto the world stage. Expect big things from this outfit; we certainly do.