We don't have as much of a chance to get out and see (or review albums from) local bands as we'd like, but here's a Pittsburgh act that's likely on the verge of a major breakout from the "local" scene, between a dynamite new album having been released last week and an upcoming tour of North America starting in September. If you haven't yet heard or seen Pittsburgh-based The Commonheart, we advise you wait no longer to check them out, regardless of whether you live anywhere near the Steel City. And their new album Pressure (Jullian Records) is a great place to start as you're waiting for them to come to a town near you.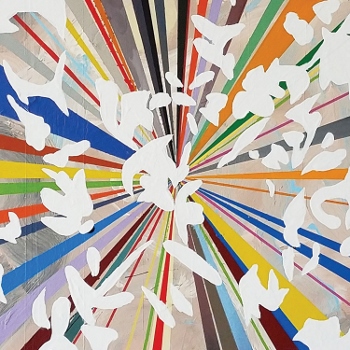 Somewhat akin to Pittsburgh's own version of the Tedeschi Trucks Band, The Commonheart fluctuates in size between eight and ten members, including horns and female backing vocals, all built around the powerful soul-rocking vocals of frontman Clinton Clegg, whose raspy voice evokes comparisons to such greats as Bob Seger and Joe Cocker. 

Add to that plenty of tight, solid grooves, positive lyrics, and the full-band sound, and you end up with an uplifting, soulful offering that shows tremendous strides since even the band's impressive 2016 debut album Grown.
It all starts off with the driving, rock n' soul "Show Me to the Light" with its upbeat lyrics such as "somethin' wrong with the world, I don't know what it is, but/ we got to get back to the love that we give" and refrains of "there's got to be more than this", along with some stinging guitar from Mike Minda, with the album's other biggest highlights including a slower, particularly Seger-ish "Nobody's Listening" on which we get to hear the full range of Clegg's voice, from the tender falsetto phrases that open the verses to the deep growl of the chorus, and the gritty swaying ballad "Can't Forget You".

"Do Right" is an encouraging, feel-good number in the vein of "Lean on Me" with its vintage soul sound, lyrics like "grab someone you love, and tell 'em that you trust 'em/ go out and do some right", and Deva Mahal-like female backing vocals, while "Best Hold On" takes the listener deep into funky ol' soul territory to set the stage nicely for a grooving, impassioned "Different Man".

While the remainder of the songs all tend to the slower side, there's certainly no lack of diversity, from the Sam Cooke-style "Wait" and a title track that builds from a simmer to a rolling boil thanks in part to a blazing guitar solo from Minda and some cooking vocals from Clegg, to the soulful, slowdance-worthy "Memory" and a heartful, closing "Mind Made Up". 

A blend of rock, soul and blues not unlike that of Vintage Trouble, tour mates JJ Grey & Mofro, and the Tedeschi Trucks Band, it doesn't take long for the music here to envelop you, making this Pressure the type with which we can gladly deal on a regular basis. And to help it go down even smoother, the band even has their own beer for the album, with an exclusive Pressure IPA having been released this past weekend at the Grist House Brewery in Pittsburgh's Millvale area!