We probably don't need to spend much ink trying to convince you that Magic Sam's Black Magic – the follow-up to his 1967 debut West Side Soul – is worth owning; even many casual blues fans will already have a copy of both Magic Sam (whose real name was Sam Maghett) albums in their collection, but those who don't – as well as Magic Sam completists – are going to want to rectify that immediately by picking up this deluxe edition of Black Magic from Delmark Records, the same label that put out both of Sam's studio LPs.
As if the original version of the album – released just days before Sam's death (at age 32) in December 1969 – wasn't appealing enough, featuring a mix of Sam's own material ("What Have I Done Wrong", "You Belong to Me") and covers of popular songs from artists such as Otis Rush ("Keep on Loving Me, Baby"), Willie Dixon ("Easy, Baby"), Freddy King (the instrumental "San-Ho-Zay"), Lowell Fulsom ("It's All Your Fault Baby"), and Roscoe Gordon ("I Just Want a Little Bit"), among others, along with Sam's, well, magically smooth, soulful vocals and a band that included Lafayette Leake on piano, Mighty Joe Young on guitar, Eddie Shaw on sax, and Odie Payne, Jr., on drums, this deluxe edition offers eight additional songs from the same late-October and early-November 1968 sessions, including alternate takes of several of the tracks from the original recording, along with three other tunes recorded at the same time, all remastered from the original analog tapes.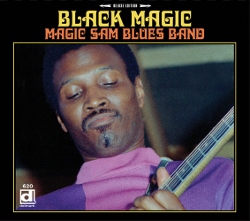 While many of those additional numbers could previously be heard on Delmark's The Magic Sam Legacy, a 1997 collection offering 13 songs left off from Sam's two studio LPs, two of the alternate versions – "Same Old Blues" and one of two alternate takes on "What Have I Done Wrong" – are being released here for the first time. Also included are alternate versions of "I Just Want a Little Bit" and "Keep on Loving Me, Baby" that, along with the others noted above, are every bit as strong as those which originally appeared on Black Magic and West Side Soul, as well as three other songs that didn't make the final cut for inclusion on the studio albums, in the Maghett-penned "Everything's Gonna Be Alright" – featuring some of the most passionate and then, towards its close, grittiest vocals you'll hear from Sam – and the jazzy instrumental "Blues for Odie Payne", along with a groove-filled take on George "Wild Child" Butler's "Keep on Doin' What You're Doin'".
In addition to the music, the deluxe edition also includes new liner notes written by Delmark founder and owner/producer Bob Koester to accompany those from not only the original LP but also from an earlier reissue of the album (both from Living Blues magazine founding co-editor Jim O' Neal) and the aforementioned The Magic Sam Legacy, along with some never-before-seen photos from both the recording session and the Ann Arbor Blues Festival.
If Sam were still alive to celebrate his 79th birthday this Valentine's Day (this Sunday for those of you who might need a reminder!), he would no doubt have given us much more great music to enjoy throughout his lifetime. But, as with fellow Mississippi native Robert Johnson and so many other blues men and women through the decades, we've been left with far too little material by which to remember Maghett, making this reissue of Black Magic a much-appreciated reminder of the magic Sam truly possessed.