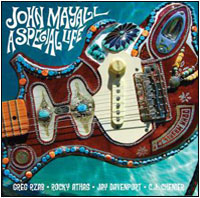 It's been five years now since British multi-instrumentalist, bandleader and singer John Mayall broke up his storied Bluesbreakers for good and put together a new five-piece line-up for his 2009 album Tough (which probably describes pretty well the decision to disband the Bluesbreakers for Mayall). But judging by his latest release A Special Life (Forty Below Records), we dare say Mayall hasn't missed a beat, with the 80-year-old Godfather of British Blues continuing to set the pace for musicians across the generations. While there may not be anything too terribly novel about this album compared to Mayall's past work, A Special Life is a fine case of Mayall just continuing to be Mayall, offering another solid helping of diverse blues, roots, and rock.
The album kicks off with the breezy sounds of Clifton Chenier's "Why Did You Go Last Night", combining its "whoa, pretty baby" refrain with guest accordion and backing vocals from Clifton's son C.J. Chenier and some sturdy keys from Mayall. That's followed by a rocking "Speak of the Devil" (Sonny Landreth) that features some particularly slick work from guitarist Rocky Athas, before the band slips into a shuffling country version of the Jimmy Rogers classic "That's All Right" with Mayall blasting away on harmonica.
The Mayall original "World Gone Crazy" may just be one of the smoothest-sounding political statements you've ever heard, with its pointed lyrics on war, followed by another pair of covers: first, the slow blues of Albert King's "Floodin' in California", on which Mayall's passionate guitar mixes with some delightful organ, while harmonica, keyboards, and lyrics combine to give Eddie Taylor's "Big Town Playboy" plenty of Chicago blues swagger.
Mayall again takes lead guitar and harmonica on the slow, sensitive title track, before diving into a gritty version of Jimmy McCracklin's "I Just Got to Know" with C.J. Chenier again assisting on vocals. Next, Mayall and the band – the same as on Tough (Athas on guitar, Greg Rzab on bass, and Jay Davenport on drums) minus Tom Canning on keys, with those duties now handled by Mayall himself – revisit the Mayall & the Bluesbreakers classic "Heartache", closing out the album on the steady-rocking Rzab/Athas track "Like a Fool" and a "Simple Man"-ish "Just a Memory" that itself has all the makings of a classic.
Produced and designed – including the original cover art – by Mayall, the CD was co-produced, engineered, and mixed by Eric Corne, who Mayall met while recording a guest spot on former Bluesbreakers member Walter Trout's upcoming album The Blues Came Callin', due out in early June. Whether you're a child of the 1960s or the 2010s, if blues is your thing, Mayall is a name with which you need to be familiar, with A Special Life proving Mayall's music just as special today as ever.