We couldn't decide which of these blues legends' great new albums – both released this week – we wanted to tell you about first, so what the heck, here's both!
Sugar Blue – Raw Sugar (Beeble Music)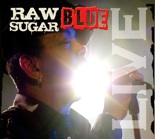 Though few may recognize him by name, nearly anyone who has listened to music in the past 35 years will likely be familiar with the stylings of blues harmonica master Sugar Blue, having played on the 1978 Rolling Stones disco-rock mega-hit "Miss You." And while a sizzling extended version of that song does appear on Blue's latest album, the live, 2-CDRaw Sugar, there's plenty more here also worth checking out, with Blue adding an extra lump or two of blues in the form of such classics as a 14-minute "Hoochie Coochie Man" and perhaps the smoothest version of Junior Wells' "Messin' with the Kid" you'll ever hear, thanks in large part to Blue's silky vocals and harp as well as some particularly fine work from Damiano Della Torre on organ.
Recorded during the band's 2011 U.S. tour, the set starts off with the red hot licks of a swinging, Blues Brothers-ish "Red Hot Mama" ("and a nice cold bottle of beer") before moving into a romping version of "One More Mile" followed by Muddy Waters' "Hoochie Coochie Man." Blue's playing is of course exquisite, lively and playful throughout, and infused with just the right amount of grittiness on tunes like "Hoochie Coochie Man."
Having reached what Blue terms the "melting point" ("you know when Sugar starts to melt, it gets real sweet"), Blue and the band next offer up a jazzy tribute to fellow harp legend James Cotton in "Cotton Tree," providing Blue a nice opportunity to demonstrate the range of his vocals, with other jazzy numbers "Walking Alone" and the closing instrumental "Swing Chicken" helping to bookend a rocking "Bluesman."
Disc two picks up with Blue playing his 365 ("That's the big one, girls") on the slow blues of "Another Man Done Gone," then moving to the shuffling "Krystalline" about "a strange white lady…krystalline cocaine." From there, he segues nicely to the next song: "Now, speaking of krystalline, there was a little band I used to play with, out of England, called the Rolling Stones. And we cut a song…it was called 'Miss You'. And we're gonna' do it like I did it – somewhat – with the Stones back in the old days, and then we're gonna' put our spin on it," with their spin being a seven-plus minute funkier R&B version of the tune before the band launches into "Messin' with the Kid." The first of two bonus tracks, the simmering blues of "Bad Boys Heaven," features some wailing harmonica as Blue – who's been called the Jimi Hendrix of harmonica – again trades licks with Della Torre on keys, also one of many songs to include a solo from guitarist Rico McFarland (with drummer James Knowles and bassist/co-writer Ilaria Lantieri rounding out the tight and talented band). The set closes on the pointed but smooth R&B grooves of "Lip Service & Lies."
Whether you've heard Sugar Blue many times before or "Miss You" is currently the extent of your familiarity with the harp ace, Raw Sugar, you'll find, is a pretty sweet way to experience him again.

Mighty Sam McClain – Too Much Jesus, Not Enough Whiskey (Mighty Music)
Here at the BluesPowR Blog, we generally go out of our way to avoid the subjects of religion and politics, but have to say we found the latest release from Mighty Sam McClain – Too Much Jesus, Not Enough Whiskey – all too appealing. With a voice rivaling such greats as Bobby "Blue" Bland, Solomon Burke, and Little Milton, McClain works through 14 originals on the new CD, offering up plenty of soul, R&B, and funk along the way. Despite the album's title, many of the lyrics are indeed of a spiritual nature, easing in with words of hope, prayers, and believing – accented by some soulful vocals (both of the lead and backing varieties) and swinging horns – on the catchy opener "I Wish You Well" before fully immersing himself in messages of faith and good works on songs like "Wake Up Call," the groovy, organ-driven "Stand Up," and the funky "Can You Feel It?"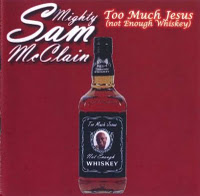 "Missing You" is one of several fine slow R&B ballads you'll hear, along with "Tears," the cracklng "Use Me," and "So Into You," with McClain also shining brightly on the Allen Toussaint co-written "Real Thing" and such funkier numbers as the bluesy "Feel So Good, Feel So Right" and a Prince-worthy "Hey Baby." A little smoother than you might expect in a song of its name, the title track is another strong one, including some nice strings and backing vocals, with the rapping vocals and Dr. John-like sounds of "Rock My Soul" also helping to place it among the disc's highlights before percussion and horns help usher in the funky disco sounds of the closing "Dance."
Backed by an extensive and talented group of musicians led by longtime collaborator and guitarist Pat Herlehy, who also co-produced the project and co-wrote and arranged many of the songs, McClain, it seems, has found just the right balance of friends, faith, and flavors to make Too Much Jesus nothing short of a divine outing.
Now, about that upcoming Presidential election…