Last week, we told you about Royal Southern Brotherhood's latest, the live Songs from the Road CD/DVD set Live in Germany, recorded in Bonn in the fall of 2012. Here's another terrific "new" live album – albeit of a much more traditional variety – that has all the trappings of an instant classic.
Recorded in June 1968 in Milwaukee, Delmark Records' Live at the Avant Garde captures the great singer and guitarist Magic Sam Maghett at perhaps the pinnacle of his career, just one year after the release of his breakout West Side Soul album, still regarded as one of the seminal recordings of the blues. Unfortunately for us all, Sam's life would be cut entirely too short when he died of a heart attack in December of the following year, leaving only one other studio album (1968's Black Magic), a couple of collections, and a few posthumous live recordings to remember him by.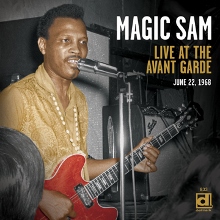 Joined by Robert "Big Mojo" Elem on bass and Bob Richey on drums, Live at the Avant Garde has Sam rolling through many of the tunes from his two studio albums along with a mix of covers from the likes of Muddy Waters ("Hoochie Coochie Man" and the gritty "Still a Fool"), Junior Wells ("Come On In This House"), Jimmy Rogers ("That's All Right"), and B.B. King (the closing instrumental "Hully Gully Twist"), plus one other original in the sensational "Bad Luck Blues" with its pleading vocals, rich tempo changes, and pointed lyrics like "I've been down so long/ but I'm on my way back up again/ When I reach the top this time, baby/ whoa, you won't be my friend/ you're gonna' wanna' be my friend".
Clocking in at just over a hour, the set revisits such West Side Soul gems as Junior Parker's "Feelin' Good" (which Sam delivers in something of a John Lee Hooker-ish fashion), Otis Rush's "All Your Love (I Miss Loving)", a shuffling "Don't Want No Woman" (Don Robey) – with its own rather pointed lyrics ("You used to boss your man, a better one than I/ before I let ya' boss me, I'd lay down and die/ I don't want no woman, tellin' me how to live my life/ well, I'm gonna' leave you baby/ cuz' I don't want no wife"), the slow blues of B.B. King's "I Need You So Bad", the breezy, Sam Cooke-sounding original "That's All I Need" and of course Jimmy McCracklin's "Everynight Everyday", all set off by Sam's smooth vocals and stinging guitar work.
From Black Magic, there's the opening cover of the Freddie King intstrumental "San-Ho-Zay" and the uptempo, Junior Wells-style original "You Belong to Me"; it's all of course exquisite, but perhaps nowhere is Sam any better than on such numbers as the slow, smoky blues of the creeping "It's All Your Fault Baby" (Lowell Fulson) off Black Magic, the aforementioned "That's All Right", "Bad Luck Blues", and "Everynight Everyday", and the boogeying instrumental "Lookin' Good," another of the tunes from his West Side Soul.
Almost 50 years after his death, Magic Sam has again proven his nickname true, providing us with yet another seminal recording in Live at the Avant Garde.