One of the most accomplished blues guitarists over the past three decades, five-time Grammy winner and Blues Hall of Famer Robert Cray sometimes gets a bit of a bad rap. While no one can argue his technical abilities on guitar or Cray's role – similar to that of fellow slinger Stevie Ray Vaughan – in helping to bring the blues to a larger and more mainstream audience, more than a few blues fans and critics we've encountered through the years have commented on Cray's music having the tendency to be too smooth too much of the time to maintain their interest.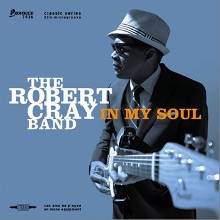 Anyone seeking a "Smoking Gun" to help counter such arguments won't find much in the way of one with Cray's latest release – his seventeenth studio album – In My Soul (Provogue Records), where a majority of the 11 mostly classic-sounding R&B/soul numbers gravitate toward the low-key. That said, every single one of these tracks is a good one – as per usual with Cray – with a few rather nice surprises to help in lifting the sentimental mood along the way.
The opening "You Move Me" is exactly the type of midtempo, simmering groove-filled number for which Cray has become synonomous, complete with stinging guitar licks and the impassioned delivery of lyrics such as "I'm not confessin' to nothin', that you don't already know/ let me tell you somethin': don't you ever, ever let me go" and "I've lost my mind, got no regrets/ because I know for sure, that I don't need a cure, you can surely bet / 'cause you move me". From there, Cray and his reconstituted band – which still includes longtime member Richard Cousins on bass, while Les Falconer and Dover Weinberg take over for Tony Braunagel and Jim Pugh on drums and keyboards, respectively – kick things into high gear with an upbeat, swinging cover of Otis Redding's "Nobody's Fault But Mine" that has Falconer trading some at-times Stevie Wonder-ish vocals with Cray as part of a horn-laced presentation the likes of what you'd get from the Tedeschi Trucks Band. As solid as the rest of the album is, this track captures the band at their very best, with the same kind of energy and enthusiasm that Cray exhibited during his performance of Jimmy McCracklin's "Just Got to Know" at last spring's Crossroads Guitar Festival.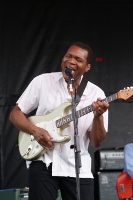 Recognizing that there's really nowhere to go but down from there, the band takes things down considerably with the quiet, swaying "Fine Yesterday" that has Cray soulfully working through such lyrics as "Rained so hard, I just had to scream/ I never knew a storm so rough, never knew a person so mean/ maybe by mornin', this might all blow through, and I'll pick up the pieces of my life, and forget about you", followed by a creeping but powerful presentation of the Isaac Hayes/David Porter classic "Your Good Thing is About to End" (Mable Johns, Lou Rawls) with producer Steve Jordan also contributing on drums.
The tempo picks up again on "I Guess I'll Never Know", a funky, Stax-sounding number co-written by Falconer with Curtis Salgado-like vocals and plenty of horns, and then a few songs later on the groovy nod-to-Booker T instrumental "Hip Tight Onions", one of two songs – along with the sensitive "Hold On" – co-written by Cousins. Also worth mentioning among the album's remaining tracks – all ballads – is a take on Bobby Blue Bland's "Deep in My Soul" featuring some brooding horns.
With 15 Grammy nominations already during the band's 40-year history, chances are good that Cray will soon be earning another for In My Soul. It may register a bit closer to the "Mellow Down Easy" section on the blues mood scale than some prefer, but that doesn't make In My Soul any less impressive, with Cray's guitar-playing and vocals both just as fine as ever.