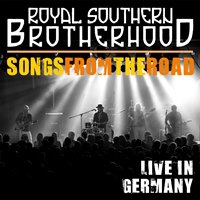 With members whose surnames include Allman, Neville and Zito, it's no surprise that Royal Southern Brotherhood's 2012 self-titled debut album was such a standout. After some pretty terrific solo releases from each of the principals (Cyril Neville's Magic Honey, Mike Zito's Gone to Texas, and Devon Allman's Turquoise) earlier in the year, the band – which also includes Charlie Wooton on bass and Yonrico Scott on drums – closed 2013 with what just may be the strongest of the projects yet, in the form of a live CD/DVD set.
Like each of the previous installments in Ruf Records' popular Songs from the Road series, Royal Southern Brotherhood's Live in Germany does an excellent job capturing the band live and in action, working through all but two of the songs from the band's first album. Kicking off on the reggae-tinged "Fired Up!" that features Neville on main vocals as well as some superb guitar work from Allman, the band moves to the slow, Zito-led Southern rocker "Hurts My Heart". As on the album, Neville, Zito and Allman share on lead and supporting vocals throughout the program, creating a depth and diversity of sound that's flat-out unrivaled.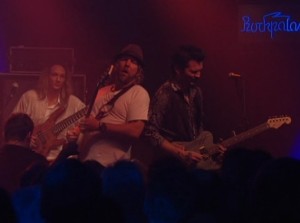 In fact, it's Allman's turn on the mic for the hard-driving "Gotta Keep Rockin'" that follows, before switching back to Neville and then again Allman, respectively, for the softer "Moonlight Over the Mississippi" and "Left My Heart in Memphis". A gritty, 13-minute take on "Fire on the Mountain" alone makes this set well worth the price of admission, with the Neville-led "Sweet Jelly Donut" also serving as a rather nice treat. Recorded at Harmonie in Bonn, Germany, in October 2012, the show also includes performances of "Ways About You", "New Horizons", and "All Around the World" from the album debut before the band closes with a superb cover of the Rolling Stones' "Gimme Shelter".
Though it adds only one additional track – albeit a mighty strong one – beyond the CD in the form of a rocking, Allman- and Zito-sung cover of B.B. King's "Sweet Little Angel", the hour and 13 minute, Blues Music Award-nominated DVD provides a nice chance to observe further the intricacies of the band in action, including, for example, Allman's inspired guitar playing on "Hurts My Heart" and the passion with which Neville sings such tracks as "Moonlight Over the Mississippi". Also included are a 10-minute interview featuring an unusual but fun "unplugged" performance of "Fired Up!" from Allman, Neville and Zito and a separate bass and drum solo track from Wooton and Scott.
It's hard to imagine there's anyone not already familiar with this uber-talented band, but this set pretty much ensures that won't remain the case much longer. A Blues Music Award nominee for DVD of the year, there's a good chance these guys have just what it will take to capture that crown during the May awards, even up against such deserving projects as Joe Bonamassa's An Acoustic Evening at the Vienna Opera House.
But don't just take our word for it; instead, do as Neville himself invites on the band's performance of "New Horizons" and "come on along with RSB now". You'll be damn glad you did.