Sadly, we've written quite a bit about death lately, with the passing of both Texas bluesman Doyle Bramhall and the great Hubert Sumlin in recent weeks.
It's been three years now since the blues world lost the guitar and vocal talents of Philadelphia-born, Atlanta-bred bluesman Sean Costello, but time, it seems, doesn't make his loss any easier, especially when reminded of his immense ability and soulfulness through recordings such as Landslide Records' new At His Best – Live, the first completely live album from Costello.
Unlike many who've passed in recent months, Costello was not an octagenarian or nonagenerian winding down a multi-decade career; he was a gifted 28-year, 364-day old singer and guitarist whose star was only just beginning to rise after playing on Susan Tedeschi's powerful Just Won't Burn album and putting out some pretty impressive recordings of his own in We Can Get Together, Sean Costello, and Moanin' for Molasses, among others, making his death all that more tragic. While Costello hadn't yet achieved the fame of Stevie Ray Vaughan or Jimi Hendrix, that could easily have come in another year or two, as is all too evident on the stellar At His Best.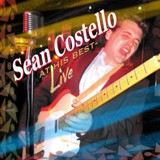 Recorded during shows in the U.S. and Europe over the seven years prior to Costello's death, the album opens on the swinging blues of Freddie King's instrumental "San-Ho-Zay," quickly reminding us of the young man's skill in presenting, and indeed, embellishing, the works of some of the great blues masters, also heard here in his interpretation of tunes from Magic Sam ("All Your Love"), T-Bone Walker ("T-Bone Boogie"), Otis Rush ("You're Killing My Love," penned by Michael Bloomfield and Nick Gravenites), and Lowell Fulson ("Reconsider Baby"). As much as we've always believed Costello to be at his peak playing the music of artists like these (check out, for example, his takes on Rush's "Double Trouble" and "All Your Love (I Miss Loving)," both of which can be heard on Landslide's earlier Sean's Blues: A Memorial Retrospective), the 16 live tracks – only five of which were previously recorded by Costello – also do a superb job of showcasing Costello's jazz, R&B, and soul chops with such songs as "The Hucklebuck," Tyrone Davis' "Can I Change My Mind," Johnny "Guitar" Watson's "I Get a Feeling" and "Motor Head Baby," and the closing "Lucille" (written by Albert Collins and Little Richard). Though the crowd tends to be a bit noisy on a few of the recordings, we much prefer to put up with a chattering audience than to never have had the chance to hear these tunes from the talented Costello.
At His Best moves easily from one high point to another, shifting from the opening number to the slow shuffle of Lloyd Glenn's "Blue Shadows," then an impressive series of tracks in the aforementioned "T-Bone Boogie," "All Your Love," and the funky soul of "I Get a Feeling," in addition to the, well, soulful funk of Bobby Womack's "Check It Out." Also included is an exceptionally strong take on Johnnie Taylor's "Doing My Own Thing" ("and really, what's wrong with Big Fat Sally doing her own thing?") before the lively instrumental "The Hucklebuck." But perhaps the album's best stretch comes close to its end, beginning with a sincere and catchy "Hold On This Time" that demonstrates a bit more of Costello's vocal abilities than many of the other songs. That's followed by a darker and much more rocking "The Battle is Over But the War Goes On" (Mighty Mo Rodgers) and the always fantastic "Peace of Mind" – here a bit funkier and rougher than we're accustomed, both with a number of powerful guitar solos and riffs.
Costello may never have found the peace of mind for which he was searching – or the stardom he deserved – but Landslide Records has amassed a truly fine collection of performances that does just as its title promises in capturing the young master at his best, with a portion of the sales from the album benefiting the Sean Costello Fund for Bi-Polar Research.
As Costello himself croons on one of the tracks, "all 'ya gotta' do is just check it out."