Not since the designation of 2003 as the "Year of the Blues" has the genre been more celebrated than it is on the newTrue Blues CD from Telarc, featuring solo and joint performances from blues greats Taj Mahal, Corey Harris, Guy Davis, Shemekia Copeland, Alvin Youngblood Hart, and harmonica ace Phil Wiggins.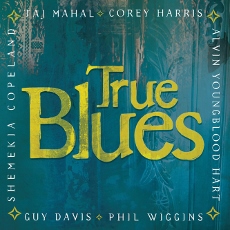 Recorded at venues throughout the United States – from Jazz at Lincoln Center in New York City and the House of Blues in Los Angeles, to Washington, D.C.'s Howard Theatre and the Ram's Head Tavern in Annapolis, the 13-song live set is just one component of a multimedia celebration that also includes an upcoming companion DVD and an ongoing tour that features the same blues men and woman from whom you hear on the CD.
It all starts with a creeping take on the Willie Dixon/Muddy Waters classic "Hoochie Coochie Man" that has Guy Davis, Corey Harris, and Alvin Youngblood Hart sharing vocals, accompanied by Phil Wiggins on harmonica. Despite how many hundreds of times you've heard this song, we doubt it's ever been quite as lowdown as this.
Hart delivers some dark guitar and vocals on the hypnotic "Motherless Children Have a Hard Time" (Blind Willie Johnson) and Harris a slow and soulful "Everybody Got to Change Sometime" (Sleepy John Estes) before the Taj Mahal Trio steps in with a shuffling "Done Changed My Way of Living" that's filled with some gritty and powerful strumming on guitar to match Mahal's coarse vocals, including some hearty laughs and deep, occasionally Howlin' Wolf-like growls, as he confidently works his way through lyrics from the opening declaration of "Used to be down, I ain't down no more" to "L.A., L.A. women, keep me so damn tired/ well, you know they got a hand fulla' gimmes, big mouth fulla' much obliged" and "If you don't love me, little girl, I know my mama do/ if you treat me bad, she'll put a hurtin', hurtin' on you." Indeed, if we had to peg just one star of this show, it would be Mahal, whose trio returns later in the program with a jazzy "Mailbox Blues" that also allows for some fine scatting from the blues master. (West Coast bluesman Hart would likely be our second pick, for his soulful vocals and feisty guitar work on the traditional "Gallows Pole" in addition to his earlier take on the Johnson tune.)
But truth be told, there's really not a bad song in the bunch, with Davis also contributing a couple of superb tracks in "Saturday Blues" (Ishman Bracey) and a haunting "That's No Way to Get Along" (Rev. Robert Wilkins); Wiggins, backed by Hart, offering the country gospel-sounding "Roberta" as well as a short solo instrumental "Prayers and Praises" featuring the bird-like warbling of Wiggins' harmonica; and Harris delivering the slow and serene "C.C. Pill Blues." Like many of the songs, this latter track is a bit more on the laidback side, but with lyrics such as "blues and trouble are my two best friends/ when my blues walks out, my trouble come waltzin' in", it's hard to imagine things getting much bluer than this.
Shemekia Copeland's slow blues treatment of her father's (Johnny Clyde Copeland) "Bring Your Fine Self Home" is remarkably patient and controlled, finding her backed by Wiggins, Harris, and Hart, with the same group trading vocals and solos to close out the album in a similar fashion as it started, this time on Robert Johnson's "Ramblin' on My Mind."
If you like what you hear – which we can almost guarantee will be the case – we'd highly encourage you to check out both the upcoming DVD and these guys on tour, with dates already stretching into 2014, including, for our good friends in Pittsburgh, (don't say we didn't give you ample notice on this one) a January 25 performance at the Carnegie Music Hall in Oakland. With all that going on, we may just want to start calling this the "Year of the True Blues."