When it comes to the Rolling Stones, you needn't look far for evidence of the band's love and support for the blues throughout the decades, from taking their name from a Muddy Waters song, to some of their earliest recordings of blues covers such as Waters' "I Just Want to Make Love to You", Jimmy Reed's "Honest I Do", Howlin' Wolf's "Little Red Rooster" and Slim Harpo's "I'm a King Bee", to devoting their most recent, GRAMMY Award-winning studio album Blue & Lonesome entirely to interpretations of other blues classics such as "Commit a Crime", "Hate to See You Go" and "I Can't Quit You Baby". In between, of course, came such memorable events as their insistence that Howlin' Wolf also be able to perform when the band was invited to appear on the popular American TV show Shindig!; visiting and recording at Chicago's Chess Records, the label that brought us music from Waters, Wolf, Willie Dixon, Chuck Berry, Etta James, and a host of other greats; and joining Waters, Buddy Guy, and Junior Wells onstage at Guy's Checkerboard Lounge during a night off from the band's 1981 tour of the U.S.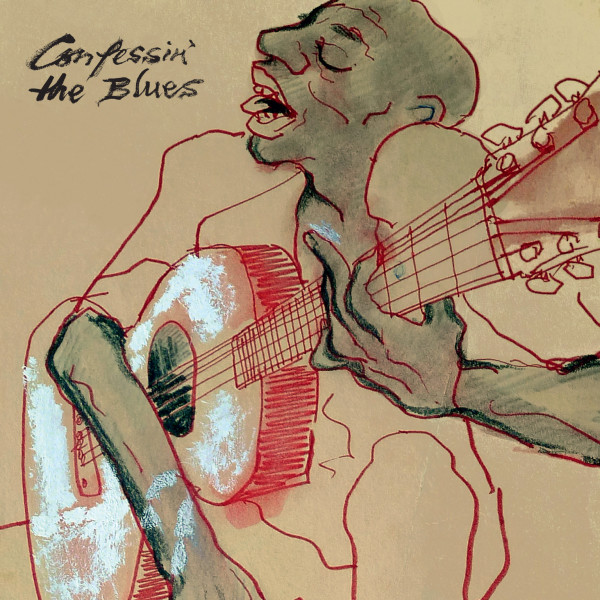 With Confessin' the Blues (BMG), the Stones provide blues fans with another terrific gift, this one in the form of a 2-CD, 2-LP or 5 10-inch vinyl compilation featuring original versions of some of the genre's greatest artists and tracks as selected by the Stones. While the Stones have probably performed or recorded most of these songs themselves at some point throughout their five and a half decades together, this compilation presents its 42 tracks as originally recorded by the likes of Waters, Wolf, Berry, Guy, Little Walter, Robert Johnson, John Lee Hooker, B.B. King, Jimmy Reed, Elmore James and more.
Of these masters, Waters, Wolf, and Little Walter are best represented with four tracks each, including such gems as Waters' "Rollin Stone" and "Mannish Boy", Wolf's "Little Red Rooster" and "Just Like I Treat You" and Walter's "Just Your Fool" and "Blue and Lonesome". Bo Diddley accounts for another three songs ("You Can't Judge a Book By Its Cover" and "Mona" as well as the lesser-known "Craw Dad"), with Chuck Berry, Robert Johnson, Elmore James, Eddie Taylor and Jimmy Reed each also represented through a pair of tracks, including such numbers as "Dust My Broom", "Love in Vain Blues", "Ride 'Em on Down", "Bad Boy", "Blues Before Sunrise", "Little Queenie" and "Bright Lights, Big City".

Rounding out the compilation are mostly familiar hits from a variety of other bluesmen, including John Lee Hooker's "Boogie Chillen", Slim Harpo's "I'm a King Bee", Magic Sam's "All Your Love", Big Bill Broonzy's "Key to the Highway", Mississippi Fred McDowell's "You Gotta Move", Big Maceo Merriweather's "Worried Life Blues", Otis Rush's "I Can't Quit You Baby", B.B. King's "Rock Me Baby", and Buddy Guy's "Damn Right I Got the Blues", with the set also including some tracks from lesser-known bluesmen such as Little Johnny Taylor ("Everybody Knows About My Good Thing, Part 1"), Jay McShann & Walter Brown ("Confessin' the Blues"), Billy Boy Arnold ("Don't Stay Out All Night"), Lightnin' Slim ("Hoodoo Blues"), Amos Milburn ("Down the Road Apiece", the first song performed by the Stones during that historic Shindig! appearance that also featured the Wolf, before they returned with Wolf's "Little Red Rooster"), and the Reverend Robert Wilkins ("The Prodigal Son" a/k/a "That's No Way to Get Along").
While most of the tracks here will be either instantly or pretty quickly recognized by avid blues listeners, Confessin' the Blues does include a few somewhat more obscure touches — both on the set's second disc — that make for a pleasant surprise. The first is a cover of John Lee Hooker's "Boogie Chillen" (here titled "Boogie Children") by an Arkansas bluesman named Boy Blue that was field-recorded by famed archivist Alan Lomax. The second is the original 1957 version of "Suzie Q" from Dale Hawkins, the compilation's only white artist; covered by the Stones early on, the song of course would also become a big hit a few years later for Creedence Clearwater Revival.
If you're at all like us, the last thing you probably need is another compilation of popular blues classics. But this really isn't just any compilation: in addition to the solid tracklist and the fact that it was chosen by the Stones, the set also features cover art painted by the band's Ronnie Wood that could have easily been inspired by the likes of Mississippi Fred McDowell, with a portion of the album's proceeds going to Willie Dixon's Blues Heaven Foundation, an organization founded and overseen by Dixon during the last decades of his life to help promote the blues and preserve the foundation's home in the historic Chess Records building, where so much of the music heard here was recorded. This is indeed a good one to have!