Willie Buck may not have been born in Chicago, but he certainly sounds a lot like Chicago, at least the one made famous by the likes of fellow Mississippi natives such as Muddy Waters, Jimmy Reed, and Howlin' Wolf. While there are plenty of Chicago musicians who continue to help to preserve and move the genre in new directions, you can probably count on one or two hands those who still deliver the music true to the sound and style that Muddy and the other giants did, with the likes of Pinetop Perkins and Willie "Big Eyes" Smith, for example, having moved on to the big blues gig in the sky in recent years.
Regardless of what other living bluesmen one might choose to include on such a short list (John Primer, Billy Branch, and real-life sons of the blues such as Lurrie Bell and Mud Morganfield being perhaps some of the most obvious selections), octogenarian Willie Buck also deserves a spot, still going strong some 50 years after he first began fronting his own bands on the Windy City scene.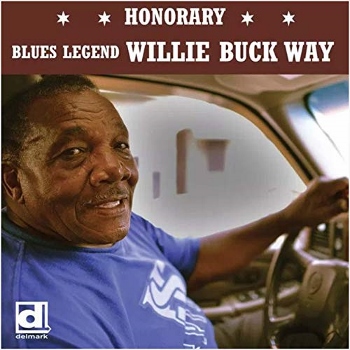 With a smooth, straightahead Chicago blues approach, Buck is one of those guys we could easily listen to all night, every night. But for those of us for whom moving to Chicago probably isn't much of a reality, it's a real treat to be able to get to hear Buck on recordings such as this most recent, titled after a Chicago street named in Buck's honor, Willie Buck Way (Delmark Records).
Backed by an all-star ensemble that includes, among others, Billy Flynn on guitar, Johnny "Fingers" Iguana on piano, Bob Stroger on bass, Jimmi Mayes on drums, and Mervyn "Harmonica" Hinds on harp, Buck proves that he's still one of the very best around with this collection of a dozen originals and five splendid covers, from the slow blues of Billy Flynn's "Can't Say Something Good About Me" and Leroy Carr's "Blues Before Sunrise", swaying "How Deep is the Ocean" (one of two Muddy Waters tracks here, along with "Please Have Mercy"), and "Crawlin' King Snake", to original gems like the strong, opening "You Want Me to Trust You", a bit more sprightly "I Give So Much to You" that, contrary to its lyrics, gives much to be happy about, "The Men Ought to Learn (To Treat the Women Right)", a simmering "Bottom of the Hill" with some particularly fine work from Iguana on piano, and another slow blues number in "Twenty-Four Seven", closing out the album with a Jimmy Reed-ish "I'd Rather Love You" that's a cross between a more loving take on "Sloppy Drunk" and "Baby What You Want Me to Do".
With its distinct Chicago sound, you're going want to make sure you take a cruise down Willie Buck Way!