If calling his return to the road the "I'm Back" tour wasn't enough of a statement of his improving health after more than a year-and-a-half of a break from performing, blues/rock guitarist Walter Trout is back in a big way with Battle Scars, his first album since his life-saving liver transplant in the spring of 2014 (while his previous album, The Blues Came Callin', was released just a few weeks after his transplant, the project was actually recorded in 2013, just before Walter became too weak to even play. You can read more about Trout's sickness, recovery, and thoughts on the future of the blues, among other topics, in our Q&A with him that appeared earlier this year, which also happens to be one of the most-read and -shared posts in the history of our blog).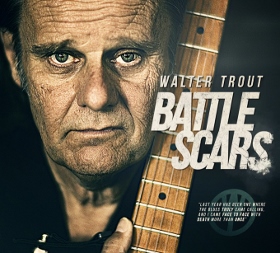 Like The Blues Came Callin', many of the dozen original songs on Battle Scars (Provogue/Mascot Label Group) – his 42nd album overall – relate to the sickness that brought Walter to within 10 days of death, as evidenced by such songs as "Almost Gone", "Omaha" (where Trout spent weeks awaiting a new liver and witnessed firsthand the grief of the families of other patients who weren't as fortunate), and "Gonna Live Again". But the big difference here is that any of the frailty or tiredness heard on Walter's previous album as a result of his circumstances at the time are long behind him, with Walter playing and singing with a renewed energy and vigor that match how he claims to feel nowadays: "like I'm 17 again".
One of the best examples of that comes on the album's opening "Almost Gone", with Trout's fiery guitar; gritty, powerful harmonica; and strong vocals combining for a sound that, to borrow from the song's lyrics, "reminds me of the way (Trout) used to be". But that, it turns out, is really just the tip of the iceberg, followed by other blues/rock-solid numbers like the shuffling, harmonica- and groove-laced "Tomorrow Seems So Far Away"; the ZZ Top-style rock of "Playin' Hideaway"; the uplifting (at least musically and vocally) "My Ship Came In" featuring some particularly stinging guitar (along with a bit more harmonica) from Trout; the breezy, open-road anthem "Fly Away"; and the hard, slow blues of "Cold, Cold Ground".
While those account for the best of the bunch, the other songs here are also nothing to sneeze at, including simmering rockers like "Omaha" and "Move On"; the tender, swaying ballad "Please Take Me Home" that sounds like it could just as easily have been a hit from an '80s rock group, complete with impassioned solos; and the, well, haunting creeper "Haunted By the Night", along with the heartfelt acoustic number that closes the album in "Gonna Live Again".
Trout's playing is again impressive, and vocally, he sounds as healthy as we can ever remember, backed here by a terrific band of Sammy Avila on Hammond B3, Michael Leasure on drums and percussion, and Johnny Griparic on bass, with Skip Edwards making occasional appearances on piano/organ ("Please Take Me Home", "Haunted By the Night") and producer Eric Corne assisting on background vocals ("Playin' Hideaway", "Fly Away", "Move On") and shaker ("Please Take Me Home"). Not only is Trout back, but some – including Walter himself – might also say he's better than ever.