If it's true what many say (and we're certainly not arguing it) about British blues-rock guitarist Joanne Shaw Taylor having taken the music world by storm with her 2009 debut album White Sugar – an effort that earned her both a British Blues Award for Female Vocalist of the Year and a nomination for Best New Artist Debut at this year's Blues Music Awards, then Taylor's latest gem Diamonds in the Dirt (out today from Ruf Records and again produced by Jim Gaines) is nothing short of a hurricane.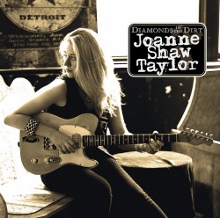 Like any really good weather system, the very beginning and end of this album tend to be its calmest parts, with a whole lot of intensity in between. The quiet start of opening track "Can't Keep Living Like This" – consisting of Taylor's lone acoustic guitar and smoky voice, plus some muted backing vocals – tricks us into thinking we're getting a drizzle, only to have the sky burst wide open when the now Detroit-based Taylor's vocals and fiery guitar both soon kick into high gear. By the end of the tune, we're fully drenched, with no umbrella big enough to shelter us from the unrelenting blues already falling and still to come.
The rocking continues with the powerful "Dead and Gone," which begins with a great guitar riff, while the breezy ballad "Same As It Never Was" (one of several of the album's 10 original songs, including the title track, to have a bit of a John Mayer sound) has huge crossover potential and could easily be a hit on pop charts. "Jump That Train" brings the tempo back up again, followed by some more rockers in "Who Do You Love," a simmering, Kenny Wayne Shepherd-like "Let It Burn," and "Lord Have Mercy."  A bluesy "World on Fire" is one of the album's best tracks, with the record closing on a relatively subdued but still delightfully brilliant "The World and It's Way."
Taylor's guitar often has every bit the fire and sound of, say, fellow Detroiter Ted Nugent's classic rocker "Stranglehold" while her passionate voice – a bit huskier throughout than on White Sugar – compares to that of Janis Joplin, Susan Tedeschi, and a rocking Bonnie Raitt. All this could very well have something to do with Taylor's appearance on the cover of the November/December issue of Blues Revue magazine, where she's part of a feature devoted to powerful women who play the blues.
Like Taylor's previous, Diamonds in the Dirt is another storm we're happy to weather time and time again, with plenty more awards and accolades no doubt in the forecast for this talented young rocker.