We don't know that we'd really heard of Chris Pierce before either, but it turns out that we did enjoy — along with a few million other fans of the show — the song he co-wrote that was prominently featured on an episode of NBC's smash TV hit This is Us, you know, the tune that Randall's biological father William penned in his younger days for his cousin's band during an extended visit to Memphis, something called "We Can Always Come Back to This".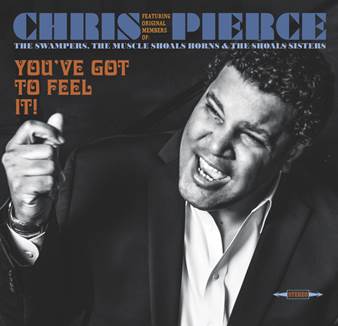 Pierce didn't write any of the songs included on his latest album You've Got to Feel It! (Calabama Recordings), but he did do an awfully nice job of selecting a dozen soul classics to cover here, from the "We Can Always Come Back to This"-like sway of Otis Redding's "That's How Strong My Love Is", a gospelish take on James Carr's "The Dark End of the Street", and the slow, closing ballad "Many Rivers to Cross" (Jimmy Cliff) to the slightly more uptempo "Slip Away" (Clarence Carter) and Blues Brothers-ish grooves of "Stop" (Howard Tate) — with its powerful soul/R&B combination of horns and vocals — and swinging "Is It Something You've Got" (Tyrone Davis) to the tougher, Tommy Castro-like blues of "Don't Fight It" (Wilson Pickett) from which the album's title derives and that features background vocals from the Grateful Dead's Donna Jean Godchaux (if this one doesn't get you moving, we don't know what will!) and a biting, funky take on Al Green's "I'm a Ram".

Regardless of what kind of song it is, Pierce delivers it all in a heartfelt, passionate manner, with a thick Muscle Shoals soul sound, thanks to the various Alabama players who back him, including original members of the legendary Muscle Shoals Rhythm Section (a.k.a. "The Swampers") — such as guitarist Jimmy Johnson and bassist David Hood, along with pianist Spooner Oldham — who can be heard on some of the best-selling soul and rock songs of all time, as well as the Muscle Shoals Horns and the Shoals Sisters.
With a diverse, powerful vocal range that evokes comparisons to The Drifters, Tommy Castro, Delbert McClinton, Johnny Rawls, Curtis Salgado, John Nemeth, and others at various points, Pierce has put together an album that is a sure contender for soul record of year.
You can hear much of that range — from smooth falsetto croons to low, deep, gritty digging in, with Pierce even throwing in a little stutter — on the opening "Cry to Me" (Solomon Burke). Add to that some soulful background vocals and classy, somewhat funky, horns and the truth is that you can already "feel" Pierce despite this being only the first number, but there's plenty more great stuff to come, also including a swaying, "Save the Last Dance for Me"-style "You Better Move On" (Arthur Alexander) that has Pierce at times sounding like Neil Diamond; the jazzy, slow-cooking rhythm & blues of Marvin Gaye's "Trouble Man" with its terrific sustained notes and crescendoing vocals and horns; and a groovy, Sly & the Family Stone-like take on Stevie Wonder's political statement "You Haven't Done Nothin'", one of several songs on which Pierce and the band rival the sound of the talented Tedeschi Trucks Band (minus, of course, Derek's slide guitar).
We were a bit surprised to read that Pierce is already a couple of decades into his music career, having toured and performed with the likes of B.B. King, Al Green, Aaron Neville, Beth Hart, Seal, Toots & the Maytals, and others over the years. No matter what happens from here for the soulman (we're hoping and betting it will be only good things), it's pretty certain that Pierce "can always come back to this" one as a smashing success!