A little over a year ago, we just couldn't say enough positive things about Ronnie Earl & the Broadcasters' new CD, an almost entirely instrumental masterpiece called Just for Today. The good news for blues fans is that the band's latest album – titled, appropriately enough, Good News (in celebration of the 50th anniversary of the Sam Cooke LP Ain't That Good News) – is also quite impressive, again featuring a fair number of instrumentals as well as some charming vocals from Diane Blue on the remaining tracks, including such gems as Cooke's "Change is Gonna Come", Junior Wells' "In the Wee Hours", and the original "Runnin' in Peace".
Earl's eighth album for Stony Plain Records, Good News captures the reigning Blues Music Award guitarist of the year and his band – the same line-up with whom he's played for more than a decade now, with The Broadcasters name itself dating back some 25 years – working through ten magnificent, mostly original tracks, kicking off with a rollicking, country-tinged instrumental "I Met Her on That Train" that features special guests Zach Zunis (Janiva Magness Band) and Nicholas Tabarias also on guitar, in addition to a strong showing from Dave Limina on B3.
The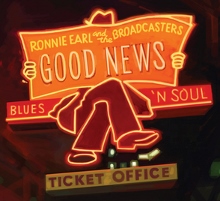 band's take on the Cooke classic "Change is Gonna Come" is about as soulful – both vocally and on guitar – as you can get, followed by a jazzy "Time to Remember" and the rich, nearly 11-minute slow blues of "In the Wee Hours", much of it instrumental, allowing Zunis, Limina, and Earl (whose nickname is "The Stratocaster Master") each room for impassioned solos while drummer Lorne Entress and bassist Jim Mouradian hold down the rhythm. From there, the band moves to the bouncy instrumental title track, driven by some gospelish B3 from Limina, before Blue provides some Dee Dee Bridgewater-like vocals on "Six String Blessing".
Co-written by the late, great blues guitarist Hubert Sumlin, the instrumental "Blues for Henry" starts off reserved, then builds to a powerful crescendo of organ and guitar, while "Puddin' Pie" is every bit the equal to something you might have heard from B.B. King's band in its heyday. The album finishes on the poignant "Runnin' in Peace" about the April 2013 Boston Marathon bombing, the lyrics of which were written by Boston musician and author Ilana Katz Katz, who was near the race's finish line when the first bomb exploded.
If there's any bad news to be told, it's that the album includes only ten tracks, although a closer listen reveals there's really no reason to feel shortchanged: all but three of the songs here play longer than five minutes – two of them ("In the Wee Hours" and "Six String Blessing") in fact double that – with an average track time of six-and-a-half minutes. Earl's playing is of course first-rate, as also holds true for the rest of the band, including Blue's vocals, for an end result that's bound to bring lots of good news for both Earl and his fans alike.