And they named it the BluesPowR Blog, where we'll be confessin' the blues and bringing you the latest and greatest from the blues music world.
So without further ado – and in keeping with the theme of this inaugural post around offspring of the blues, we turn to a new release from the son of one of blues' all-time greats, slide guitarist and Rock & Roll Hall of Famer Elmore James. We'll have to save discussion of the elder James' many accomplishments – including such hits as The Sky is Crying, It Hurts Me Too, Madison Blues, Shake Your Moneymaker, One Way Out, and Dust My Broom, to name just a few – and influence on music, which obviously extends far beyond the blues, for a later post, as for now, all eyes and ears are on the one they call Jr.
In addition to having long ago adopted his father's full name (his given name was Earnest Johnson after his stepfather, but he wisely accepted the advice of blues legend Willie Dixon during a mid-1960s recording session and traded in his performing name of Earnest Jr. – Mr. Soul for the more distinguishing moniker of Elmore James Jr.), the younger James has proudly carried out the tradition of his father's blues for the past four decades, including having served as featured vocalist for the legendary Aces for many years and now fronting his own Broomdusters blues band.
Elmore Jr.'s previous CD – titled "Daddy Gave Me the Blues" – included its fair share of nods to his father's music and style, from its clever title track to his original instrumental Steppin' with Elmo (a nickname Sr. used for himself in such songs as Elmo's Shuffle) to covers of classics like Tore Down, Oh Baby, See See Rider, and Willie Dixon's Going Back Home (also previously recorded by Sr.), whose lyrics of "I believe, I believe I'll go back home" will catch even the most casual of listeners' ears with their borrowing from the Robert Johnson (later popularized by Elmore Sr.) tune Dust My Broom. So it wasn't much of a surprise when Jr.'s "Daddy" album received Living Blues magazine's award for Best Debut Album of 2008.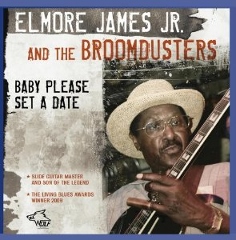 Now, with his latest release "Please Set a Date" (Wolf Records), titled after a song recorded by his father and others from B.B. King to Peter Green to George Thorogood through the decades, Jr. continues to do his part in keeping the broomdusting alive with a nice blend of originals and blues covers – in addition to the title track, he includes several others either written or popularized by his father, including Dust My Broom, The Sky is Crying, Mean Mistreater, and Look on Yonder Wall. To help with filling the transition of time between father and son (not that he exactly needs help in that area since Jr. sounds just as true and relevant singing his father's songs as he does his originals), he offers his own arrangement of the traditional blues tune She's Gone and an Amtrack Train song credited to both Jr. and Sr. that sounds to be an update of Sr.'s Sunnyland Train. Top that off with a revisiting of two tunes – Steppin' with Elmo and Don't Get Mad – from Jr's previous release and the soulful closer I've Been Around the World, and you have a solid, swinging outing from Mr. James Jr. and his new label.
With Sr.'s life and career having ended entirely too early (he died of a heart attack in 1963 at only 45 years of age), blues fans are blessed to be able to hear from this talented next of kin. While some might say that Jr.'s simply following in his father's footsteps, give this new disc a listen and it becomes quite clear that Jr.'s indeed steppin' with, never behind, his father's spirit.