Johnny Moeller, BlooGaLoo! (Severn Records, April 20)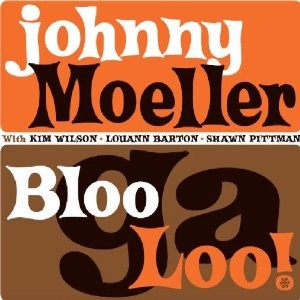 If you're reading this wondering who in the heck Johnny Moeller is, well, you're probably not alone. But fortunately the answer is simple: he's one of the best and most energetic guitarists you've likely never heard – at least not on his own, although he's certainly been around. In addition to fronting his own band and handling house guitar duties for the Severn Records label, the Texas guitarist also keeps busy playing with an outfit you probably have heard by the name of the Fabulous Thunderbirds.
There's no doubt that hailing from the land that has served as home to so many other guitar greats (Stevie Ray and Jimmie Vaughan, Johnny Winter, Johnny Copeland, T-Bone Walker, Albert Collins, and Lightnin' Hopkins, to name a few) can be both a blessing and a curse: a blessing in the region's being recognized as a hotbed for six-string talent, and a curse in the fierceness of the competition and the fact that you're not anywhere close to being the only guitarist looking to make a name for yourself. Fortunately, Moeller gets a little help from both Severn Records and some friends on BlooGaLoo!, his first release on the label.
After starting off with the surf-sounding instrumental title track, Moeller keeps things moving with "I'm Movin' on Up," which is kind of like a modern-day party version of the Guitar Slim blues classic "Well I Done Got Over It" (recently featured as our Blues Lyrics of the Week). Johnny's take on Earl King's "Trick Bag" might be a little more Johnny Rotten than Johnny B. Goode for some blues purists, but they'll find plenty of other songs on the disc to be squarely down the blues alley, including "Well Goodbye Baby" and "Got a Feelin'," both of which feature fellow T-bird Kim Wilson on vocals and harmonica. Also joining Moeller as guests on BlooGaLoo! are fellow Texans LouAnn Barton, who handles vocals on "I'm Stuck on You" and the album's second Earl King cover "Everybody's Got to Cry Sometime," Gary Clark, Jr., on background vocals and horns for the catchy "Raise Your Hands," and Shawn Pittman on vocals for the aforementioned "I'm Movin' on Up."
Top it off with a number of happening instrumentals, including "Shufflin' Around" and "Theme from the One Armed Swordsman," and a closing, early Stones-sounding cover of Earl Hooker's "Tease Me," and there's no denying that Moeller's got a unique and interesting sound that demands – and deserves – to be heard far beyond Texas.