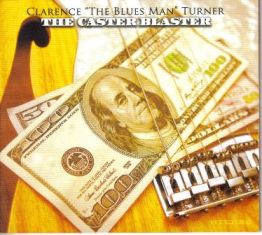 We have to admit we weren't at all familiar with Clarence "The Blues Man" Turner when we popped this latest CD of his into the player, so we may have been a bit skeptical upon hearing the album's opening lines of "Seems like everywhere I go, everybody knows my name", even when followed by the much bluesier and down-to-earth sentiment of "ain't a thing wrong with bein' famous/ but I could use a 'lil fortune to go with my fame". But one listen through The Caster Blaster (Uniqek Sound Records) and you'll soon realize that the D.C.-based blues singer and multi-instrumentalist has every bit the talent to back such bold statements, moving from the funky grooves of songs like the opening "Fame & Fortune" and Albert King-like "Happily Married Man" filled with lively keys from Charles Pearson, to the swinging, Chuck Berry-styled rocker "Nadine" and soft, sentimental "Hey Lady", to the greasy "Mojo Hand" with its steamy horns.
Along the way, you'll also hear two terrific instrumentals in "Sabrena", a simmering jazz number driven by grungy, Gary Clark Jr.-ish guitar riffs, and the shuffling "Fender Bender?", as well as impressive covers of a few classics, including an uptempo, New Orleans-flavored treatment of "C.C. Rider" in the vein of Louis Jordan's "Ain't Nobody Here But Us Chickens", a horn-laden, slightly accelerated take on Willie Dixon's "I'm Ready", and a "Tin Pan Alley"-like version of Ray Charles' "Black Jack" that features some stinging guitar from Turner and finds him attacking with an energy comparable to that of younger players like Jarekus Singleton, Omar Coleman, or one of the genre's other rising stars, but with all the bite of a seasoned blues player.
The Caster Blaster may or may not lead to the fortune Turner's hoping for, but there's a good chance it will result in a bit more fame for the bluesman if word gets out just how good this album is!