In introducing the band on his recent recording paying tribute to the Three Kings of the Blues, Joe Bonamassa called fellow guitar-slinger Kirk Fletcher "one of the greatest modern blues guitar players in the world", and one listen to that album and Bonamassa's earlier Muddy Wolf tribute provides all the proof you might need that Fletcher has the goods to back that kind of statement up.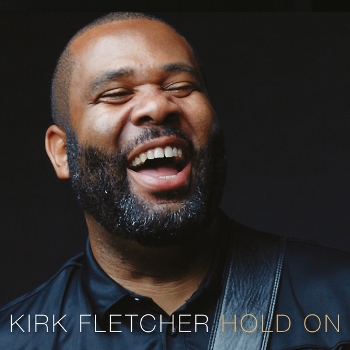 Stepping back to the center of the stage for his fourth solo studio album Hold On, Fletcher is even more superb, delivering not only the magnificent playing you would expect but some tough, seriously impressive vocals that put Fletcher in the same league as the likes of Larry McCray and the late Michael Burks.
Joined by Jonny Henderson (Matt Schofield, Ian Siegal) on keyboards and Matt Brown on drums, Fletcher works his way through a set of eight terrific tracks that range from the slow, straight-ahead blues of "Gotta Right" ("to sing the blues") loaded with stinging licks to the heavy, dragging rocker "Time's Ticking" to such funky numbers as the soulful, Billy Preston-like, make ya' feel good "You Need Me" and New Orleans-style instrumental "Dupree" with its cool, second line grooves.

There's also the Crescent City rockabilly of "Sad Sad Day" before Fletcher quiets things down with the mostly tender, swaying — then rising — blues of an 8-minute Josh Smith co-penned "The Answer", with the remaining two songs both incorporating strong female guest vocals: the hard-hitting opener "Two Steps Forward" features some powerful accompaniment from Mahalia Barnes amidst its wah-filled, Hendrix-like riffs and strains of "Layla", while the soft, gospelish R&B of the closing title track has Jade McCrea joining Fletcher in delivering his message of love and harmony.
We've already heard a bunch of great albums in 2018, but Fletcher's Hold On is as solid as they come and easily among the year's best. This is one you're going to want to Hold On to once you've heard it.
Here's the album's lead track, "Two Steps Forward", to get you started: