U.K. blues-rock guitar-slinger Joanne Shaw Taylor may not have come away from last weekend's British Blues Awards with any prizes, relinquishing the best female vocalist honor she's held for the past two years to Chantel McGregor this time around, but she's certainly got a winner of an album in her brand new Almost Always Never, released this week on Ruf Records.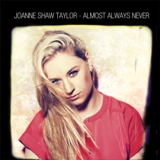 Last we heard from Taylor back in 2010 with her Diamonds in the Dirt, you may recall we likened her to a hurricane. Having since relocated to Texas and switched to a new producer in Mike McCarthy, that comparison is perhaps even more fitting on Almost Always Never. Recorded in Austin, the album reminds us of all that we admire about Taylor, from the breathy vocals and evocative lyrics to the fire of her playing, which burns all the more intense on this outing, with Taylor often achieving Joe Bonamassa-like heights of impressiveness, beginning with the thrashing guitar solos and powerful riffs of the opening "Soul Station" and continuing with such rockers as "Tied & Bound" and "Standing to Fall" and the hypnotic "Maybe Tomorrow."
But power is not of course all you'll get from Taylor, who displays a versatility on guitar well beyond her 26 years, ranging from the tender quiet strains of Robert Cray on "Beautifully Broken" to bluesy echoes of Stevie Ray Vaughan and Jimi Hendrix ("Piece of the Sky"), Led Zeppelin ("Army of One"), and Pink Floyd (on her slow, thick-as-mud cover of the Frankie Miller ballad "Jealousy"), among others. Almost Always Never also finds Taylor backed by a talented trio of musicians, comprised of J.J. Johnson (Tedeschi Trucks Band, John Mayer Trio, Doyle Bramhall II) on drums, Billy White on bass and acoustic slide, and David Garza on keys, the latter's finest moments including some downright pretty piano on the closing "Lose Myself to Loving You" and work on organ that adds a neat swing to the breezy "A Hand in Love."
With its smoky vocals and "it's not you, it's me" attitude, the dark, catchy "You Should Stay, I Should Go" is easily as good as any song you'll hear on pop radio today, as can also be said about both the quiet ballad that is the album's title track and the aforementioned "Beautifully Broken." If Taylor didn't take the world by storm through either of her previous albums, the dozen strong tunes – all but one originals – and plenty of smoking guitar on Almost Always Never certainly will.
Batten down the hatches, my friends: this one will blow you away.