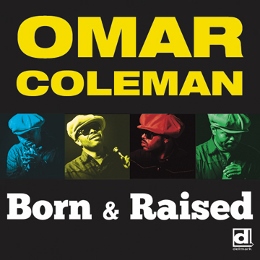 As best we can remember, our first exposure to Chicago singer and harmonica player Omar Coleman came just a few years back when we saw him play along with International Blues Challenge winner Sean Carney at West Virginia's Heritage Music BluesFest. While that performance and a subsequent guest spot on fellow Chicago bluesman Toronzo Cannon's John the Conquer Root CD were enough to form a pretty good first impression, those sideman gigs were, it seems, but mere glimpses of Coleman's tremendous talents judging by his own latest release Born & Raised, which is actually his third full album (including one with Carney) but marks his debut on the Delmark Records label and may just be the breakout release folks have been waiting for from this soul bluesman.
For those not yet familiar with Coleman, it doesn't take long to get to know him, between Born & Raised's funky, autobiographical title track that talks about his growing up on Chicago's West Side and another baker's dozen of original tracks, all but two of which were either written or co-written by Coleman. Part-James Brown, part-Little Milton in his delivery – with shades of Syl Johnson, The Black Crowes, Lonnie Brooks, and Blood, Sweat & Tears thrown in – Coleman delivers crisp, versatile vocals along with some brilliant harmonica, backed by an impressive band that includes Pete Galanis on guitar, Neal O'Hara on piano and organ, Ari Seder on bass, and Marty Binder (Albert Collins, Coco Montoya, Dave Specter) on drums and percussion. The album also includes three different guest guitarists, with Toronzo Cannon, Mike Wheeler, and David Herrero each sitting in for two songs apiece.
Every track here is a good one, with the best of the bunch including the swinging Chicago soul/blues grooves of the opening "Tryin' to Do Right"; a funky, shuffling "Man Like Me" with its "Crossroads"-styled bassline and some stinging guitar from Cannon, who returns again a bit later for an uptempo "You Got a Hold on Me" that has the pair sounding like a modern-day equivalent of Junior Wells and Buddy Guy; the grooving, "Hard to Handle"-like "Wishing Well" featuring Wheeler and deeply soulful, Blood, Sweat & Tears-ish "Tell Me What You Want" featuring Herrero; and a slow shuffling, Albert King-sounding "I Know You Been Cheating".
Those who prefer their soul a bit softer and slower will want to check out the smooth R&B of the Wheeler-accompanied "I Was a Fool" and tender "One Request" – really the only way one can safely go with an opening line like "Hey girl, I've got somethin' to say to you/ I want you to have my child" – while songs like "Sit Down Baby" and "Lucky Man" add a dose of funk to the mix, and "Slow Down Baby" (not to be confused with the aforementioned, similarly titled "Sit Down Baby") pushes the tempo even faster with a rocking, Chuck Berry-like number, with Herrero again on guitar.
Just in his early 40s, Coleman positions himself among the brightest of the rising stars in the blues universe right now with Born & Raised.