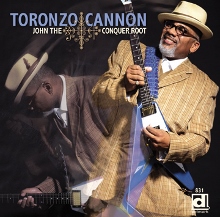 If it's true what they say about being able to measure a man by the company he keeps, then we're guessing that blues drummer Brian "BJ" Jones has to be one pretty good guy.
In addition to being a member of blues great Magic Slim's, and now son Shawn "Lil' Slim" Holt's, band the Teardrops – whose latest album we told you about just last week, Jones also plays on at least one other mighty impressive recent release, the sophomore album from Chicago bluesman Toronzo Cannon entitled John the Conquer Root (Delmark Records).
A longtime bus driver with the Chicago Transit Authority, the 45-year-old Cannon transforms into a full-fledged blues machine upon turning in the keys at his day job, at least judging by the richness and variety of sounds you'll hear on John the Conquer Root, which finds Cannon tearing through a dozen original songs, from the stinging, psychedelic title track that opens the CD, to the immensely soulful "Cold World" buoyed by horns and female background vocals, to the slow, jazzy Jimmy Witherspoon-like "You Made Me This Way" with a surprise revelation at the song's conclusion. In addition to his superb vocals, Cannon also plays one hell of a mean guitar, kicking in with some Hendrix-style licks on the rocking title track and never letting up through the song's reprise, the closing instrumental "Root to the Fruit…She's Mine".
Similar to the title track, "Gentle Reminder" is a Cyril Neville-style funk-rocker spiked with powerful guitar and such biting lyrics as "I shouldn't have to say this, but I'm a bluesman through and through" and "My friends say why you play the way you do? I say the blues gotta' move on, this ain't 1952", followed a few songs later by a driving "Shame" in much the same vein, one of a trio of songs to feature Omar Coleman on harmonica, along with the opener and the swinging "Big Ray Bop" with its smooth, almost Keb Mo'-ish vocals.
"If You're Woman Enough to Leave Me" brings some fine R&B grooves, as is also the case with the horn-laced "Been Better to You". Both Joanna Connor and Mike Wheeler join Cannon on vocals (and Connor also on guitar) for the poignant acoustic number "Let It Shine Always", with Connor returning on slide for the romping "Sweet, Sweet, Sweet".
Somewhat symbolic of the Delmark label – which has been churning out quality jazz and blues albums now for 60 years, Cannon's John the Conquer Root nicely blends such familiar blues themes as big legged women, voodoo spells, and broken relationships with an array of rich, contemporary sounds, resulting in one of the year's best new blues releases.
Full of character and zeal, this album should be enough to put Cannon squarely in the driver's seat in regards to his own fate, on what promises to be a pretty exciting ride for the talented singer and guitarist. If you're smart, you'll jump on board as well.