It's been several decades now since the great Muddy Waters was booed by blues purists for introducing an electric guitar to his live blues performance. During that time, plenty of acts have of course tried to take the blues to a whole new level of rocking, with bands like Led Zeppelin and Cream being perhaps some of the first names to jump to mind and the likes of Gov't Mule helping to still carry on the tradition.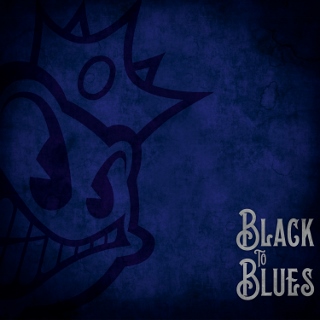 Here's one we mentioned in our recent review of George Thorogood's new roots album as another upcoming example of rockers undertaking all-blues projects. We hadn't heard much of Black Stone Cherry's music before now, but have to say we really dig the sound of this six-song Black to Blues EP (Mascot Records), featuring the most unique, hardest-rocking versions of Muddy Waters, Howlin' Wolf, Albert King, and Freddie King covers you'll possibly ever hear.
This isn't the southern rockers' first foray into the blues, with the band having, for example, included Howlin' Wolf's "Evil" as a bonus track on their 2016 Kentucky album and both Son House's "Death Letter Blues" and a "Lonely Train" that borrows its chorus from Bo Diddley's "You Can't Judge a Book by Its Cover" on their Thank You/Livin' Live album.
Calling blues "the music that's been our DNA from day one", Black Stone Cherry vocalist and guitarist Chris Robertson suggests the band is much more in tune with the genre than most fans might realize: "Blues is the music we listen to when we sit around on the bus with a bottle of bourbon."
Now, we're guessing these Kentucky boys have probably enjoyed their fair share of bourbon aboard the bus in their day, which means they've also listened to quite a bit of blues, and that certainly shows on this EP, with the band delivering some in-your-face, imaginative takes on these popular blues classics, filled with deep, husky vocals and stinging guitar.
"A defining moment for me was realizing all the rock n' roll that I loved came from the blues." – Robertson
The EP starts heavy and stays that way pretty much the whole way through, only bringing things down for brief, quieter reprieves on a couple of the songs, including Muddy Waters' "Hoochie Coochie Man" and the opening "Built for Comfort" (Howlin' Wolf) with its thick, at times funky, bassline. The band comes back to Waters twice more, first with "Champagne & Reefer" and then with the closing "I Want to Be Loved", throwing in some gritty rocking harmonica on both, with the latter also featuring some terrific keyboards. Selections from two of the Kings of the blues help round out the project, with hard-driving, horn-laced versions of Freddie King's "Palace of the King" and Albert King's "Born Under a Bad Sign".
That's not to suggest this EP is absent of other surprises or variety, however, with the band adding, for example, some slick textured horns on "Hoochie Coochie Man" and rootsy, Delaney & Bonnie-style backing vocals on "Palace of the King".
It may not be your father's or grandfather's blues, but it does sound pretty damn good, and is something you can expect to hear more of from this band who have played along such other acts as Bad Company, Whitesnake, Def Leppard, Lynyrd Skynyrd, and Nickelback through the years, with Robertson describing Black to Blues as "a transformative experience" for the band and stating: "It reignited our passion for this music, and it will definitely have an effect on our next album."
And you can be darn sure we'll be listening!
In the meantime, here's the band with "Built for Comfort":